$19.95
ISBN: 9781523508143
Availability: Available from our distributor; usually Ships in 1-5 Days
Published: Workman Publishing Company - October 15th, 2019
A surprise on every page!
 
Brimming from cover to cover with projects and other paper surprises, The Kids' Book of Paper Love, from the bestselling editors of Flow magazine and books, is a bounty of a book that begs to be folded, cut up, collaged, doodled on, and shared.
 
Loop paper strips into a paper chain. Snip out bookmarks.
---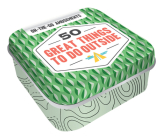 $8.95
ISBN: 9781452183039
Availability: In stock at Brooklyn or Jersey City -- click for more details
Published: Chronicle Books - January 7th, 2020
Bestselling format!

Looking for screen-free activities to get out and explore the world? Look no further than this cute, compact tin filled with 50 great ideas for family fun in the great outdoors!

• Perfect for fans of Brain Quest or Mad Libs—a great way to get kids 5 and up outside and entertain them

---

$14.99

ISBN: 9781452174631

Availability: In stock at Brooklyn or Jersey City -- click for more details

Published: Chronicle Books - March 24th, 2020

At last, a puzzle the whole family can enjoy!

Two puzzles in one! Twenty large, simple pieces make up half of this charming boardwalk scene, perfect for younger puzzlers honing their skills. Forty smaller pieces make up the other half, giving older siblings and family members more of a challenge.

• A great game for family time, holidays and vacations

---

$14.95

ISBN: 9780999265543

Availability: In stock at Brooklyn or Jersey City -- click for more details

Published: Ice Plant - April 1st, 2020

Return to the real world A coupon-style booklet of 52 activities for offline fun, from Jason Fulford and Tamara Shopsin

---

$14.95

ISBN: 9780500651766

Availability: Available from our distributor; usually Ships in 1-5 Days

Published: Thames & Hudson - February 11th, 2020

Using fun activities and hilarious illustrations, this fill-in book helps children think like an inventor.

---

$12.99

ISBN: 9781465491565

Availability: In stock at Brooklyn or Jersey City -- click for more details

Published: DK Children - December 31st, 2019

The perfect introduction to mindfulness, this box of 40 cards teaches children how to be mindful and handle stress by focusing their thoughts and noticing the world around them using fun activities.


---

$14.99

ISBN: 9781452178608

Availability: Available from our distributor; usually Ships in 1-5 Days

Published: Chronicle Books - September 17th, 2019

Part of the New York Times bestselling Press Here series by Hervé Tullet!

With hours of creative play, Draw Here: An Activity Book features more than 135 pages brimming with activities for young readers to see things differently.


---

$24.99

ISBN: 9781465467058

Availability: Available from our distributor; usually Ships in 1-5 Days

Published: DK Children - September 4th, 2018

Find a galaxy full of LEGO® Star Wars™ ideas to build – from activities and art, games and challenges, to practical makes and your very own inventions! 


---

$7.99

ISBN: 9781524789978

Availability: Available from our distributor; usually Ships in 1-5 Days

Published: Penguin Workshop - September 4th, 2018

The Who Was? Activity Book, sized down to match the other Who HQ titles, now has even more pages of puzzles, mazes, quizzes, and brain-busting challenges, all based on the New York Times best-selling Who Was? series.

---

$10.99

ISBN: 9780525644224

Availability: Available from our distributor; usually Ships in 1-5 Days

Published: Random House Books for Young Readers - January 7th, 2020

Activity book meets adventure in this series that is Choose Your Own Adventure meets I Survived meets doodle book! Doodle, decide, and demolish your way out of history's greatest events!

Reader, beware! Once you open this book, there is NO turning back. You will have THREE chances to escape this ancient Egyptian tomb. You must choose a path first:


---

$9.99

ISBN: 9781787080065

Availability: Available from our distributor; usually Ships in 1-5 Days

Published: Button Books - October 1st, 2018

This fabulous dinosaur-themed activity book will bring hours of enjoyment to any children who are dinosaur fanatics. The pages are crammed with all sorts of fun, including dot to dot, spot the difference, coloring in and other engaging activities. Absorbing and educational, Dinosaur Adventure Activity Book features beautiful, bright illustrations that will draw children in and keep them busy.

---

This item is currently unavailable and can not be ordered.

ISBN: 9788193448502

Availability: Unavailable

Published: Tara Books - May 13th, 2019

This unusual art activity book featuring the deer introduces children to a variety of Indian art traditions. Through tracing, patterning and colouring the deer, children learn to explore each of the eight distinctive styles in the book - or just have fun. Children also get to experience and understand how art is as much about the imagination as it is about depiction.

---

This item is currently unavailable and can not be ordered.

ISBN: 9781682973721

Availability: Unavailable

Published: QEB Publishing - August 14th, 2018

Make fun animals and objects from nature's finest materials!

---

$19.99

ISBN: 9781948703222

Availability: In stock at Brooklyn or Jersey City -- click for more details

Published: America's Test Kitchen Kids - March 3rd, 2020

From the creators of NYT Bestseller The Complete Cookbook for Young Chefs, America's Test Kitchen and an army of kid recipe testers, this awesome new cooking collection will get 5 to 8 year olds (and their grown-ups!) into the kitchen doing fun food projects together!


---

This item is currently unavailable and can not be ordered.

ISBN: 9781786035370

Availability: Out of Print

Published: Wide Eyed Editions - January 7th, 2020

Take a ride through 26 fully illustrated search and find spreads, each one themed on a number. Count the animals going into Noah's Ark two-by-two, spot 13 scary ghosts at the haunted house on Halloween, and visit Farm Fifteen where everything from one scarecrow through to 15 apples need to be found.

---