Join us at WORD Greenpoint for a storytime featuring Lisa Anchin, author of The Little Green Girl.
ABOUT THE BOOK
The Little Green Girl is no ordinary topiary. She dreams of visiting far off places and exploring the world beyond her garden's walls. But for her gardener, Mr. Aster, the prospect of deviating from his daily routine—let alone leaving his beloved home—is unimaginable. Try as she might, the Little Green Girl can't uproot herself and set off on her own. To realize her dream, she'll have to find a way to show Mr. Aster that it's possible to carry a bit of home with you wherever you go.
ABOUT LISA ANCHIN
Lisa Anchin is a Brooklyn-based illustrator with at least one green thumb. Though she has never encountered anything as magical as the Little Green Girl, her windowsill is brimming with plants, including trees she grew from avocado pits and the seeds of grocery store lemons. Lisa (and her plants) live with her husband, daughter, and two studio cats. The Little Green Girl is her first book.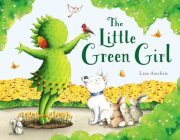 $17.99
ISBN: 9780735230736
Availability: In stock at Brooklyn or Jersey City -- click for more details
Published: Dial Books - April 2nd, 2019
A heartwarming and wildly imaginative tale about broadening your horizons, with a wonderfully unique father-daughter pair at the root of the story.

---