Join us at WORD Greenpoint for a special musical storytime featuring author Carolyn Sloan!
ABOUT THE BOOK
Kids love music. They're natural singers and dancers, and they improvise every time they play. They were born for jazz! And Welcome to Jazz was made for them.
A follow-up to Welcome to the Symphony, Welcome to Jazz is written by music educator Carolyn Sloan, and uses Symphony's ingenious, interactive picture-book-and-sound-chip format.
Structured around the iconic song "When the Saints Go Marching In," Welcome to Jazz narrates the story of jazz and discusses what the audience is hearing as the band begins to play. Best of all, the sound chips actually demonstrate what's happening—what vocal scatting sounds like, how to pick out a swing beat, and the tones of different instruments, from the trumpet to the clarinet. And in the end, kids can sing along with the band in a traditional call-and-response verse.
ABOUT CAROLYN SLOAN
Carolyn Sloan is a music educator at the Berkeley Carroll School in Brooklyn, New York, and the author of Finding Your Voice: A Practical and Spiritual Approach to Singing and Living. A songwriter and musician, she has been writing music for theater, television, and children for the past 20 years. She lives with her family in Brooklyn, New York.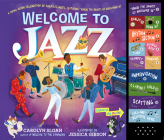 $24.95
ISBN: 9781523506880
Availability: Available from our distributor; usually Ships in 1-5 Days
Published: Workman Publishing Company - October 15th, 2019
AN INTERACTIVE, SWING-ALONG PICTURE BOOK—WITH 12 SOUND CHIPS!
 
 Are you ready to swing? Discover the wonders of jazz: How to get in the groove, what it means to play a solo, and the joy of singing along in a call-and-response.
 
In this interactive swing-along picture book with 12 sound chips, you'll hear the instrumen
---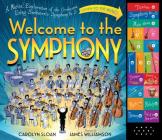 $24.99
ISBN: 9780761176473
Availability: In stock at Brooklyn or Jersey City -- click for more details
Published: Workman Publishing Company - October 27th, 2015
Please take your seat. The concert is about to begin!
 
"An ideal way to introduce children to the magic of music—delightful, charming, wonderfully entertaining, beautifully illustrated."—Gerard Schwarz, Music Director, the All-Star Orchestra
 
Discover what a symphony is. Who Beethoven was.

---