Join us at WORD Brooklyn for a special storytime featuring a musical performance by Benjamin Scheuer, author of the children's book Hibernate With Me. Scheuer originally wrote a song called "Hibernate With Me" for his wife, Jemima Williams (who illustrated the book), when she was homesick for the U.K. after moving to NYC. Benjamin and Jemima will lead an interactive storytime and Benjamin will play "Hibernate With Me" as well as other songs.
ABOUT BENJAMIN SCHEUER
Benjamin Scheuer is a Drama Desk Award–winning singer-songwriter and playwright. He toured his solo show The Lion around the United States and Europe, giving more than 500 performances. His album Songs from The Lion was released in 2016 along with four animated music videos, which have been shown at film festivals around the world. With photographer Riya Lerner, Scheuer created the book Between Two Spaces, the proceeds of which raise funds for the Leukemia & Lymphoma Society. Scheuer lives in New York City with his wife, illustrator Jemima Williams, and their dog Porthos.
ABOUT JEMIMA WILLIAMS
Jemima Williams is an illustrator, milliner, writer and stuff-maker. Her illustrations have appeared in books, articles and on the web. Her hats have appeared on people's heads. In London, she worked as a designer for the children's television program Peppa Pig. Jemima illustrated a children's book, Hibernate With Me, written by her husband, Benjamin Scheuer. They are currently working on their second,Hundred Feet Tall, which is due to be published in 2020. She has published articles in Standard Issue magazine and has contributed an essay to the book You and Who Else. She is currently working on a collection of memoir-essays themed around the 78 cards of the standard Tarot deck. Originally from Wales, Jemima now lives in New York City with her husband Ben, their daughter Elodie, and their dog Porthos.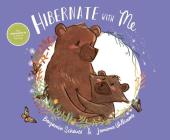 $17.99
ISBN: 9781534432178
Availability: Available from our distributor; usually Ships in 1-5 Days
Published: Simon & Schuster Books for Young Readers - February 12th, 2019
Based on the song of the same name by Benjamin Scheuer, Hibernate with Me is a gentle reminder that no matter how sad, small, or scared you feel, you are always worthy of love, and that brighter days are always ahead.

Sometimes you feel small.
---