Join us for an interactive storytime with authors and illustrators Patricia Keeler and Barbara DiLorenzo!
ABOUT BARBARA DILORENZO
Barbara DiLorenzo graduated from the Rhode Island School of Design with a BFA in illustration, and studied painting at the Arts Students League of New York. She is the author-illustrator of Renato the Lion, which was chosen as a Junior Library Guild Selection, and Quincy. When she isn't working on books, Barbara teaches at the Arts Council of Princeton. In addition to being a signature member of the New England Watercolor Society, she is an illustrator member of the Society of Illustrators, a member of SCBWI, and the co-president of the Children's Book Illustrators Group of New York (CBIG). Currently, Barbara lives in Hopewell, New Jersey with her wonderful family–who constantly inspire new stories.
ABOUT PATRICIA KEELER
Patricia has written and/or illustrated over a dozen books including Scoop the Ice Cream Truck, Lizzie and Lou Seal, and Drumbeat in Our Feet. She received the Christopher Medal in 2011 for her illustrations in Would You Still Love Me If, written by Wendy LaGuardia, which also won the New York Book Festival and Best Book Overall in the Dragonfly Book Awards. Over the years Patricia has been positively reviewed by the New York Times Book Review, along with other major publications such as Kirkus Reviews, School Library Journal, Booklist, and Horn Book.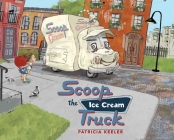 $16.99
ISBN: 9781510706316
Availability: In stock at Brooklyn or Jersey City -- click for more details
Published: Sky Pony - April 3rd, 2018
Scoop the Ice Cream Truck has seen a lot of summers selling his vanilla ice cream cones across the city. But he's getting old, and the new trucks are getting fancier. Now they have waffle cones, jumbo sundaes, flash frozen ice cream, twenty-seven flavors and six special toppings. Feeling like he's fallen behind, Scoop decides that it's time for a redesign.
---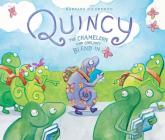 $17.99
ISBN: 9781499805420
Availability: In stock at Brooklyn or Jersey City -- click for more details
Published: little bee books - April 3rd, 2018
Quincy the chameleon just can't seem to blend in. Will he ever find a way to embrace his uniqueness?

Quincy wants to love chameleon school, but he's not very good at blending in. No matter how hard he tries to stop it from happening, all of this thoughts keep popping up on his skin!
---