The Collected Poems of Li He (Paperback)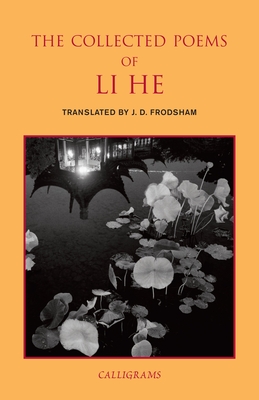 Description
---
The definitive collection of works by one of the Tang Dynasty's most eccentric (and badly-behaved) poets, now back in print for the first time in decades.

Li He is the bad-boy poet of the late Tang dynasty. He began writing at the age of seven and died at twenty-six from alcoholism or, according to a later commentator, "sexual dissipation," or both. An obscure and unsuccessful relative of the imperial family, he would set out at dawn on horseback, pause, write a poem, and toss the paper away. A servant boy followed him to collect these scraps in a tapestry bag.
 
Long considered far too extravagant and weird for Chinese taste, Li He was virtually excluded from the poetic canon until the mid-twentieth century. Today, as the translator and scholar Anne M. Birrell, writes, "Of all the Tang poets, even of all Chinese poets, he best speaks for our disconcerting times." Modern critics have compared him to Rimbaud, Baudelaire, Keats, and Trakl.
 
The Collected Poems of Li He is the only comprehensive selection of his surviving work (most of his poems were reputedly burned by his cousin after his death, for the honor of the family), rendered here in crystalline translations by the noted scholar J. D. Frodsham.
About the Author
---
Li He (790–816) was a poet of the late Tang dynasty. "Strange by any standards," according to A. C. Graham, "he offended the conventionality of later taste by his individuality and...by his morbidity and violence."
 
J. D. Frodsham is an emeritus professor of English and comparative literature at Murdoch University, Australia. His many books include The Murmuring Stream: The Life and Works of Hsieh Ling-Yuan, An Anthology of Chinese Verse, and The First Chinese Embassy to the West.

Paul Rouzer is Professor of Chinese Literature at the University of Minnesota. He is most recently the author of On Cold Mountain: A Buddhist Reading of the Hanshan Poems (2015).
Praise For…
---
"Frodsham has...developed aspects of Li He's biography, generally presenting them more succinctly...Certainly, Professor Frodsham's finely wrought translation of Li He remains the most cultured of those recent attempts to render into English this intractable, culture-bound Chinese poet."—Anne M. Birrell, Journal of the Royal Asiatic Society of Great Britain and Ireland