Things We Didn't Talk About When I Was a Girl: A Memoir (Hardcover)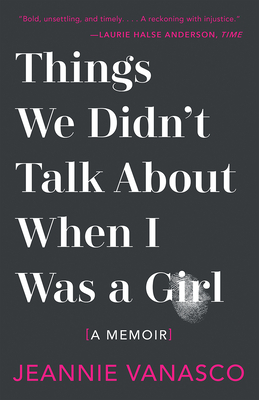 Staff Reviews
---
"This is at once difficult to read and difficult to put down. It is the kind of book that should be required reading for men, but it's almost impossible to recommend to anyone casually. Vanasco's memoir recounts her experience as a victim of a rape perpetrated by one of her closest friends from high school, just a short while after graduation. What follows is a succession of complex documents—transcripts of her conversations with her one-time friend, conversations between her and her current partner, between her and her editor, between her and the people close to her, and, most painful of all, her own reflections on these conversations. It's hard and hard to write something this personal, harder still to strip the process down enough to tell a story that wounded the author so totally in a way that anyone else can understand, but Vanasco does it. This is challenging stuff."
— From
Jeff
Description
---
"Such a confrontation is bold, unsettling and timely. (Vanasco) wanted to find out how a person who hurts others talks to himself about his actions. If we are ever going to reduce sexual violence, it's a critically important question." —Laurie Halse Anderson in TIME
"It's hard to overstate the importance of this gorgeous, harrowing, heartbreaking book . . . Vanasco is whip-smart and tender, open and ruthless; she is the perfect guide through the minefield of her trauma, and ours." —Carmen Maria Machado in Bustle
A Best Book of 2019 at Esquire, Amazon, Time, Kirkus, and Electric Literature
Jeannie Vanasco has had the same nightmare since she was a teenager. She startles awake, saying his name. It is always about him: one of her closest high school friends, a boy named Mark. A boy who raped her.
When her nightmares worsen, Jeannie decides—after fourteen years of silence—to reach out to Mark. He agrees to talk on the record and meet in person. "It's the least I can do," he says.
Jeannie details her friendship with Mark before and after the assault, asking the brave and urgent question: Is it possible for a good person to commit a terrible act? Jeannie interviews Mark, exploring how rape has impacted his life as well as her own. She examines the language surrounding sexual assault and pushes against its confines, contributing to and deepening the #MeToo discussion.
Exacting and courageous, Things We Didn't Talk About When I Was a Girl is part memoir, part true crime record, and part testament to the strength of female friendships—a recounting and reckoning that will inspire us to ask harder questions and interrogate our biases. Jeannie Vanasco examines and dismantles long-held myths of victimhood, discovering grace and power in this genre-bending investigation into the trauma of sexual violence.
About the Author
---
Jeannie Vanasco is the author of The Glass Eye: A Memoir (Tin House Books, 2017). Her work has appeared in The Believer, the New York Times Modern Love, Tin House, and elsewhere. She lives in Baltimore and is an assistant professor at Towson University.
Praise For…
---
It's about violence and forgiveness, about friendship and the unwanted title of victim, about digging deeper and deeper to seek answers — from yourself and from your bogeyman.
— Maya Salam

Bold, unsettling, and timely . . . critically important.
— Laurie Halse Anderson

A cuttingly funny meta-meditation on her own pain in the context of #MeToo.

Vanasco immediately makes you wonder how we can take so much about sexual assault for granted, how we will accept lines about women asking for it and women's insistence that it only happened this one time. But the book has – and achieves – a higher ambition than being an astute study in sexual consent.

It's hard to overstate the importance of this gorgeous, harrowing, heartbreaking book, which tackles sexual violence and its aftermath while also articulating the singular pain of knowing — or loving, or caring for, or having a history with — one's rapist. Vanasco is whip-smart and tender, open and ruthless; she is the perfect guide through the minefield of her trauma, and ours.
— Carmen Maria Machado

It's a remarkably nuanced account of the complicated and confusing emotions that surface when your rapist is someone you knew and trusted.

Vanasco's second memoir sets the canon of #MeToo-era creative nonfiction on fire: she interviews her rapist. ... This is a slow-burning, reverberating meditation on the nuances of morality, masculinity, and punishment. ... Inimitable. (Starred Review)

Singular, gutting ... perhaps the most important book of the season.

Vanasco gets at so many of the gray areas in our conversations about rape and the rehabilitation of its perpetrators. If some traumas don't fit into neat little narratives, then the pleasure of reading Vanasco is in knowing that messiness is OK, that there's no right way to handle such betrayals.
— Maris Kreizman

Thought-provoking, unmooring, and haunting.

Clearly this is an important and timely book. Even in a world that can seem brimming with stories similar to Vanasco's, hers stands out . . . heartfelt, painful, and essential.

Vanasco invites her readers to understand the complicated humanity involved in both causing and experiencing harm, leaving the limits and possibilities of accountability and healing as urgent, open questions. An extraordinarily brave work of self- and cultural reflection. (Starred Review)

Jeannie Vanasco has written exactly the book we need right now. I wish everyone in this country would read it.
— Melissa Febos, author of ABANDON ME

Vanasco performs a literary feminist miracle for all women who have been denied basic rights, been suspect, been labeled, been unbelievable after their rapes and assaults, and shines our collective shame outwardly, to ask a man why a choice to abuse is made.
— Sophia Shalmiyev, author of MOTHER WINTER

Vanasco is a brilliant craftsperson—blurring the lines between memoir, investigation, and interview, she confronts her years-ago rapist and dives headlong into the complexity of forgiveness and redemption, what was taken and what can be rebuilt. Our cultural discussion of rape is so deeply marked by silence. Enough with the silence. Enough. Vanasco has given us a bridge.
— Megan Stielstra, author of THE WRONG WAY TO SAVE YOUR LIFE

Carrying memories of rape sometimes feels like working, day in and day out, on untangling a hopelessly knotted chain. In this book, Jeannie Vanasco works through the gnarl until its terrifying expanse is stretched out before us. There is so much power in these pages: in the vulnerability she shows in seeking answers, in the deftness with which she builds a narrative where there was once only a mess of questions and silence.
— Elissa Washuta, author of STARVATION MODE

In Things We Didn't Talk About When I Was a Girl, Jeannie Vanasco has done something extraordinary. She explodes rape culture at the level of language, shows us how we are trapped and how we might make ourselves free. This is a brilliant book, an astonishingly fierce inquiry into the places language won't go.

— Emily Geminder, author of DEAD GIRLS

With matchless grit and a vibrant mind, Jeannie Vanasco performs an absorbing autopsy on a friendship that ended in rape. Things We Didn't Talk About When I Was a Girl cuts through the silence of deep betrayal, gives contour to the aching space between forgiveness and absolution, and offers a living testament to the endless wreckage of sexual assault.

— Amy Jo Burns, author of CINDERLAND

Unflinching in her honesty and approach, Vanasco interrogates boundaries further shaping and re-shaping memoir as we know it. Wickedly clever and powerful, Things We Didn't Talk About When I Was A Girl is a necessary book.

— Krystal A. Sital, author of SECRETS WE KEPT: THREE WOMEN OF TRINIDAD

Jeannie Vanasco's rigorous and nuanced investigation of crime, trauma, secrets, and the telling of our stories, applies an agile mind and penetrating insight to the enforced silences that surround rape and its aftermath.
— Lisa Locascio, author of OPEN ME

In this brave and urgent memoir, Jeannie Vanasco asks if it's possible for a good person to commit a terrible act. In a moment where morality is so often rendered in flat, simplistic terms, Vanasco refuses to take the easy way out: she is generous yet exacting, fair yet relentless. Things We Didn't Talk About When I Was a Girl is a searching, brilliant book and Jeannie Vanasco is a formidable talent.

— Daniel Gumbiner, author of THE BOATBUILDER

Things We Didn't Talk About When I Was a Girl explores the common experience of rape with uncommon nuance and intense tenderness. In the process, the book also unexpectedly becomes a warm celebration of female friendship. Vanasco reveals the boundaries of your thoughts and feelings. Then she takes you beyond.

— YZ Chin, author of THOUGH I GET HOME

Part memoir, part interview, Things We Didn't Talk About When I Was a Girl interrogates the terms of betrayal, the limits of redemption, asking us how can we forgive when we never truly forget?

— Timothy Taranto, author of ARS BOTANICA

Vanasco's wildly courageous decision to confront her rapist, question him, meet with him, and then invite her readers into her processing of that experience is, frankly, stunning. This is a book I'll teach and reread well into the future, grateful that fewer and fewer girls will grow up without the opportunity to talk about these things.
— Angela Pelster, author of LIMBER