Moteki, 1: Love Strikes! (Paperback)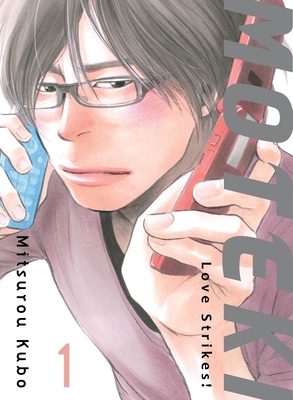 Staff Reviews
---
An ongoing kind of loneliness I feel and a fear of how I'm perceived sexually that I have a hard time describing to people without confusing them is actually framed clearly within the pages of this manga. Fujimoto is a 30 year old that has spent his entire life experiencing difficulties finding romantic love. Luckily he's experiencing his moteki, or in other words a brief period of popularity, after receiving calls and messages from several women from his past at the exact same time. Trying feverishly to get a girlfriend, the book becomes very much about the women he pursues, the bad experiences that shaped their character, and their desires in life as well. Over time, Fuji and his lady friends all develop into better people. Heartbreaking yet hilarious, Moteki will definitely win over your heart as you watch Fujimoto fulfill his own.
— From
Chazz
Description
---
Superstar creator Mitsurou Kubo (original concept and character designs for Yuri!!! on Ice) reveals how you never know when fortune will strike. 

Yukiyo Fujimoto's life has been in a rut. He is about to turn thirty and has never held a steady job or had a girlfriend. And at a time when the prospects for hope seem at their lowest, suddenly his phone blows up! Out of the blue he is contacted by several women from his past! His moteki has finally come!! Love has struck and cupid's arrow has hit him repeatedly and, coincidentally, all at the same time! Yukiyo may seem to have many options now, but is he ready for love? And are any of these women? The stage for love might be set, but the time might only be right for him to finally grow up!
About the Author
---
Mitsurou Kubo (pen name for Mitsuko Kubo) was born in Sasebo, Nagasaki in 1975. She made her manga debut at the age of 21, partnering with authors or lyricists to adapt their work for a pair of women's anothologies. Her first original work, 3.3.7 premiered in the legendary Shonen Magazine (publishers of Fairy Tail and Negima) and ran for ten volumes. She followed that up with another Shonen Magazine series call Tokyuu; a twenty volume long series about an officer in the Japanese Coast Guard. While Tokyuu was her breakthrough, Moteki catapulted her into a new stratosphere. The series written for the men's magazine Evening was an instant multimillion unit seller and inspired a television drama and motion picture. Kubo's success would lead her having her own columns about writing and modern women in Japanese society. She has hosted a few weekly radio shows and is a regular television commentator. Ans she recently began writing screenplays for television including the award winning international sensation YURI on Ice!