I Called Him Necktie (Paperback)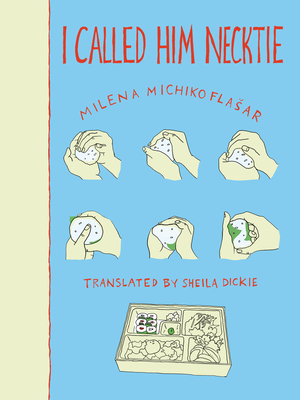 This item is currently unavailable and can not be ordered.
Staff Reviews
---
Here is a small story about two small, broken men. One, Hiro, is a hikikomori (or shut-in) resistant to society and the pressures of adulthood. The other, Necktie, is an older businessman, down on his luck and ashamed after being fired for falling asleep on the job. Their rapport begins in a park, where Hiro is attempting to acclimate himself to the outside world and Necktie hovers teary-eyed over his bento box lunch. Where it ends exactly is harder to say. A sensitive and emotional novel certain to appeal to fans of Haruki Murakami, Catcher in the Rye, and beyond.(Chad)
— From
ChadPrime
Description
---
"The best of the best from this year's bountiful harvest of uncommonly strong offerings ... Deeply original." --O, The Oprah Magazine

"Milena Michiko Flasar's beautiful novel ... is a story about freedom and responsibility, and it results in an almost Sartrean meditation."--Times Literary Supplement

"Flasar's exquisite, finely wrought novel is both a prose poem and a parable about how we deflect, defer and disconnect from life, and what is needed before we can bravely embrace it again."
-- Monique Truong, author of The Book of Salt and Bitter in the Mouth
Twenty-year-old Taguchi Hiro has spent the last two years of his life living as a hikikomori--a shut-in who never leaves his room and has no human interaction--in his parents' home in Tokyo. As Hiro tentatively decides to reenter the world, he spends his days observing life around him from a park bench. Gradually he makes friends with Ohara Tetsu, a middle-aged salaryman who has lost his job but can't bring himself to tell his wife, and shows up every day in a suit and tie to pass the time on a nearby bench. As Hiro and Tetsu cautiously open up to each other, they discover in their sadness a common bond. Regrets and disappointments, as well as hopes and dreams, come to the surface until both find the strength to somehow give a new start to their lives. This beautiful novel is moving, unforgettable, and full of surprises. The reader turns the last page feeling that a small triumph has occurred.
Milena Michiko Flasar was born in 1980, the daughter of a Japanese mother and an Austrian father. She lives in Vienna. I Called Him Necktie won the 2012 Austrian Alpha Literature Prize.
About the Author
---
Milena Michiko Flasar was born in 1980, the daughter of a Japanese mother and an Austrian father. She lives in Vienna and has written three novels, including I Called Him Necktie, which won the 2012 Austrian Alpha Literature Prize. Sheila Dickie studied German and Drama at Bristol University and has taught German. She has translated a novel by Claude Michelet from French, and lives in Henley-on-Thames, England.