The Missing Year of Juan Salvatierra (Paperback)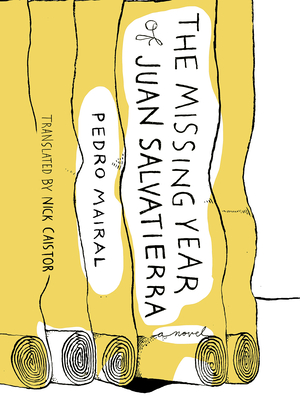 $15.49
Usually Ships in 1-5 Days
Staff Reviews
---
After an accident as a child, Juan Salvatierra never spoke again. But he painted. And painted. And painted. He painted every day on rolls -- a diary of his life and the life of the village and its shifting landscapes -- and by the time he died there were hundreds of them. His estranged children had to decide what to do with them and became intrigued when they realized that one roll was missing. What kind of secret life did their father have that year? And is anyone still around who remembers it? (Emily)
— From
Emily
After an accident as a child, Juan Salvatierra never spoke again. But he painted. And painted. And painted. He painted every day on rolls -- a diary of his life and the life of the village and its shifting landscapes -- and by the time he died there were hundreds of them. His estranged children had to decide what to do with them and became intrigued when they realized that one roll was missing. What kind of secret life did their father have that year? And is anyone still around who remembers it? (Emily)
— From
Emily
Description
---
The New Republic Best Books of 2013 and World Literature Today Best Books of 2013.

"A simple mystery constructed very cleverly ... an atmospheric and understated book with vivid settings and characters, a true delight to read."-10 Best Books Shorter than 150 Pages, Publishers Weekly
"Mairal's quickening prose moves from the ordinary to the opulent . . . without skipping a beat."--Jed Perl, The New Republic
"Mairal isn't your old college literature professor's idea of an Argentine novelist."--Los Angeles Times
"Affirms Pedro Mairal's stature as one of the most significant Argentine writers working today."--David Leavitt, author of The Two Hotel Francforts
At age nine, Juan Salvatierra became mute following a horse riding accident. At twenty, he began secretly painting a series of long rolls of canvas, minutely detailing six decades of life in his village on Argentina's river frontier with Uruguay. After the death of Salvatierra, his sons return to the village from Buenos Aires to deal with their inheritance: a shed packed with canvases stretching over two miles in length, depicting personal and communal history. Museum curators come calling to acquire this strange, gargantuan artwork but an essential one of its rolls is missing. A search that illuminates the links between art and life ensues, as an intrigue of family secrets buried in the past cast their shadows on the present.
Pedro Mairal, born in Buenos Aires in 1970, is one of the most exciting Argentine novelists of his generation. In 2007 he was included in the Bogota 39, which named the best Latin American authors.

About the Author
---
Pedro Mairal made a splash with his debut novel, Una noche con Sabrina Love, which tells the story of an 18-year-old boy who wins a night with a porn star of his dreams. That book was made into a film by Alejandro Agresti and was widely translated. Mairal, who was born in Buenos Aires in 1970, is a professor of English literature; he has been recognized as one of the most original voices in Latin American literature today, and in 1998 was awarded the Premio Clarin. He is also the author of the book of short stories Hoy temprano and the novel El ano del desierto. In 2007 he was included in the Bogota 39, which named the best Latin American authors.
Praise For…
---
"This enigmatic novel delights in its understated style." - Publishers Weekly



"This short novel about a vast painting is a pleasure to read and affirms Pedro Mairal's stature as one of the most significant Argentine writers working today." - David Leavitt, author of The Lost Language of Cranes and The Man Who Knew Too Much



"Pedro Mairal isn't your old college literature professor's idea of an Argentine novelist." - The Los Angeles Times



"The Missing Year of Juan Salvatierra is an engaging celebration of art as a force of nature, the fragile yet indomitable demand for possibility despite the constraints of a torpid existence." - The Arts Fuse