Us Conductors: A Novel (Paperback)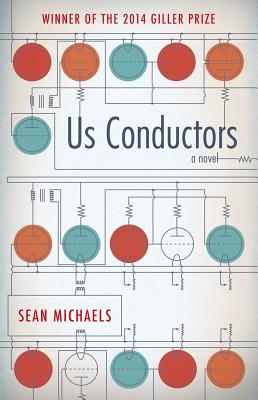 This item is currently unavailable and can not be ordered.
Description
---
Us Conductors is the story of the man who created the most magical musical instrument in the world, the theremin. It's a tale of electricity and espionage, jazz and kung-fu, Harlem and Siberia, and the way even doomed love can keep you alive.
Locked in a cabin aboard a ship bearing him back to Russia and away from the love of his life, Lev Sergeyvich Termen begins to type his story: a tale of electricity, romance and the invention of the world's strangest instrument, the theremin. He recollects his early years as a scientist forging breakthroughs during the Bolshevik Revolution and his decade as a Manhattan celebrity and reluctant Soviet spy. Against the backdrop of Prohibition and the 1929 Crash, Termen spends his days in his workshop, devising inventions, and his nights in Harlem clubs, jostling with famous bandleaders and falling in love with the young violinist Clara Reisenberg. When the boat reaches his homeland, Termen finds it is not the Russia he remembers. He is imprisoned in the Gulag system, sent first to a Siberian work camp and then to a secret laboratory. In the face of all this, his love for Clara remains constant, passing through the ether like the theremin's song. Steeped in beauty, wonder, and looping heartbreak, Sean Michaels's debut novel explores the lies we tell, the truths we imagine, and the lengths we go to survive.
About the Author
---
Sean Michaels was born in Stirling, Scotland, raised in Ottawa, and eventually settled in Montreal, where he founded the pioneering music blog Said the Gramophone. His award-winning writing has also appeared in The Observer, McSweeney's, The Guardian, Pitchfork and The Globe & Mail. His bestselling debut novel, Us Conductors, winner of the Scotiabank Giller Prize, was named one of NPR's best books of the year.
Praise For…
---
"Us Conductors stretches its arms to encompass nearly everything it is an immigrant tale, an epic, a spy intrigue, a prison confession, an inventor's manual, a creation myth, and an obituarybut the electric current humming through its heart is an achingly resonant love story. Sean Michaels orchestrates his first novel like a virtuoso."
Anthony Marra, author of A Constellation of Vital Phenomena

A fascinating novel! Told with grace and confidence, and in a finely wrought voice, Us Conductors kept surprising me to the end. I was swept from the speakeasies and artistic fervor of 1930s Manhattan to bleak, secretive Soviet Union prisons, and never once was the illusion shattered. Throughout the story, the themes of love and music sing like the pure, ethereal notes of the theremin."
Eowyn Ivey, author of the New York Times bestseller The Snow Child

I've been awaiting a book by Sean Michaels for a decade, ever since he helped create not only the online MP3 blog but his own form of criticismimaginative, bird-like devices of prose that soar in and out of the paths of songs. In his novel, Us Conductors, Michaels finds his ideal subject in another inventor, the enigmatic Leon Termen, who with softly lit-up wisdom calls himself a sound being sounded, music being made,' amid the noise of history. Michaels's voice will pass through you like live current and conduct you to parts unknown."
Carl Wilson, music critic for Slate.com and author of Let's Talk About Love: Why Other People Have Such Bad Taste

"Probably best known as founder of the influential music blog Said the Gramophone, Michaels' debut novel fictionalizes the life of Lev Termen scientist, spy and inventor of the theremin, an ethereal and eerie musical instrument."
National Post

"Hipsters and the tragically indie know Sean Michaels as the founder of music blog Said the Gramophone. In April, he'll release his debut novel, Us Conductors, a fictionalization of the life of the inventor of the theremin. Yeah, I'm not sure either, but Michaels writes about music with care and attention, so I'm interested to see where this goes."
Bookriot