After Midnight (Neversink) (Paperback)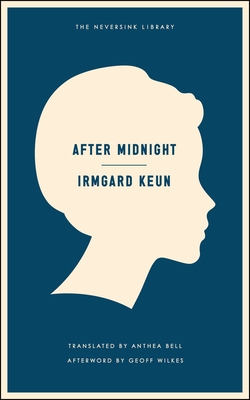 Description
---
Sanna and her ravishing friend Gerti would rather speak of love than politics, but in 1930s Frankfurt, politics cannot be escaped--even in the lady's bathroom. Crossing town one evening to meet up with Gerti's Jewish lover, a blockade cuts off the girls' path--it is the Fürher in a motorcade procession, and the crowd goes mad striving to catch a glimpse of Hitler's raised "empty hand." Then the parade is over, and in the long hours after midnight Sanna and Gerti will face betrayal, death, and the heartbreaking reality of being young in an era devoid of innocence or romance.

In 1937, German author Irmgard Keun had only recently fled Nazi Germany with her lover Joseph Roth when she wrote this slim, exquisite, and devastating book. It captures the unbearable tension, contradictions, and hysteria of pre-war Germany like no other novel. Yet even as it exposes human folly, the book exudes a hopeful humanism. It is full of humor and light, even as it describes the first moments of a nightmare. After Midnight is a masterpiece that deserves to be read and remembered anew.
About the Author
---
IRMGARD KEUN (1905–1982) was born in Berlin and raised in Cologne, where she studied to be an actress. However, reputedly inspired by a meeting with Alfred Döblin, author of Berlin Alexanderplatz, she turned to writing, and became an instant sensation with her first novel, Gigli: One of Us, published in 1931 when she was just twenty-six. A year later, her second novel, The Artificial Silk Girl, was an even bigger bestseller. The rising Nazi party censured Keun, however, and her books were included in the infamous "burning of the books" in 1933. After being arrested and interrogated by the Gestapo, Keun left her husband and escaped Germany. While wandering in exile, Keun conducted an eighteen-month affair with the writer Joseph Roth and finished After Midnight, published in 1937. In 1940 Keun staged her suicide and, under a false identity, re-entered Germany, where she lived in hiding until the end of the war. Her work was rediscovered in the late seventies, reviving her reputation in Germany. She died in 1982.

ANTHEA BELL has translated numerous works from French, German, Danish, and Polish. She is best known for her translations of the French Asterix comics with co-translator Derek Hockridge; and for her translation of W. G. Sebald's Austerlitz, for which she was awarded the 2002 Helen and Kurt Wolff Translator's Prize.

GEOFF WILKES, a Lecturer in German Studies at the University of Queensland, has written extensively on the literature and society of the Weimar Republic and the Nazi Reich, with special attention to Irmgard Keun and Hans Fallada. He is the author of Hans Fallada's Crisis Novels 1931–1947.
Praise For…
---
Praise for After Midnight

"I cannot think of anything else that conjures up so powerfully the atmosphere of a nation turned insane."
—Sunday Telegraph

"You can feel the creeping evil slowly infiltrate everyday existence. But this is also a love story."
—Manchester Evening News
 
"Acerbically observed by this youthful, clever, undeceived eye….Crystalline yet acid."
—Jewish Chronicle

"If the original Nach Mitternacht is as lively as Anthea Bell's snappy English translation, Keun was not only a great satirist but also a great stylist. Now published for the first time in the United States, After Midnight is a sharp, vivid and uncompromising read on an impossible subject....[A] slim but important novel."
—Shelf Awareness

"Explosive....Reading After Midnight today [still] feels dangerous. I kept turning to the copyright page, unable to believe that such a sexually and politically frank book could have been published in 1937 Germany, a time of blacklists and book burnings....Keun has an amazing gift for exposing the conflict at the heart of the average citizen, whose naivete is eventually and sometimes violently stripped away....After Midnight haunts far beyond its final page."
—NPR.com's "Books We Like"

"[Irmgard Keun's] stunning works of literature are searing satires of life under the Third Reich in which fascist ideology is subtly and hilariously subverted, Nazi racism pilloried…The overwhelming power of Keun's work lies in her surprisingly raw, witty, and resonant feminine voices."
—Jenny McPhee, Bookslut