The Canal (Paperback)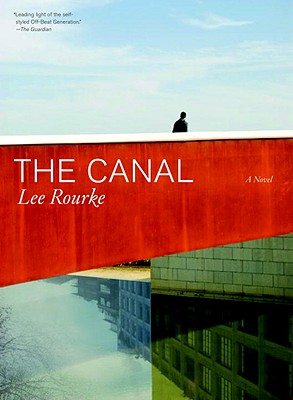 Description
---
An electrifying debut novel that becomes a shocking tale about... boredom

In a deeply compelling debut novel, Lee Rourke—a British underground sensation for his story collection Everyday—tells the tale of a man who finds his life so boring it frightens him. So he quits his job to spend some time sitting on a bench beside a quiet canal in a placid London neighborhood, watching the swans in the water and the people in the glass-fronted offices across the way while he collects himself.

However his solace is soon interupted when a jittery young woman begins to show up and sit beside him every day. Although she won't even tell him her name, she slowly begins to tell him a chilling story about a terrible act she committed, something for which she just can't forgive herself—and which seems to have involved one of the men they can see working in the building across the canal.

Torn by fear and pity, the man becomes more immersed in her tale, and finds that boredom has, indeed, brought him to the most terrifying place he's ever been.
About the Author
---
Lee Rourke is the author of the short story collection Everyday. He is also one of England's leading young literary critics, writing regularly for The Guardian, The Independent, TLS and the New Statesman, as well as leading book blogs such as Ready, Steady, Book. He is Contributing Editor at 3:AM Magazine and also blogs at Sponge! He lives in London.
Praise For…
---
"A story assembled from everyday objects, unassumingly and quietly, that stuns and horrifies by increments... The Canal may look, at first glance, like a love story, but it harnesses the power of a parable."
—John Wray, author of Lowboy
 
"Leading light of the self-styled Off-Beat Generation, Rourke stakes his claim as heir apparent to greats such as Ballard, Joyce or Houellebecq."
—The Guardian
"Is it possible to find meaning in boredom? Lee Rourke believes that there is meaning in this most maligned of moods. Finding it just takes time—a boring enterprise to be sure, but as Rourke's antihero discovers, a liberating one." —The Wall Street Journal
 
"You have to salute Rourke - he has written a novel about boredom and how it saturates modernity, which is a ballsy thing to do. But The Canal also takes in urban renewal, technology and violence as it questions the manner in which we live our lives in the 21st century. In a particularly affecting scene, Rourke describes a funeral and the way the guests behave as though they are actors playing roles. Authenticity may be in recession, but novels like this help us to recover our sense of it. If you fancy a cerebral summer read then make it The Canal. For a book about urban ennui it's one hell of a page-turner." —GQ (UK)
 
"The narrator's true spiritual ancestor then may be Proust's Marcel, a man who knew exactly what to do with boredom. Instead of sentimentalizing childhood snacks, however, this narrator sentimentalizes ugly, bewildering, and homely moments, and does a lovely job of it….Even though nothing much happens in The Canal, Rourke pulls off a neat trick: a dull stretch of urban neglect and a dull, ordinary life are transformed into beautiful creatures. The muck dredged from the canal and the muck dredged from the narrator's memory are evidence of sad, strange urban histories full of longing, repression, and compulsion. The Canal is an interesting and provocative debut—but readers who disagree that boredom is a good thing, be warned." —The Rumpus
 
"[A] thoughtful, occasionally disturbing and curiously affecting debut novel.... While unreservedly a novel of discourse and digression, The Canal also understands that tension and intrigue are just as important as literary devices.  It's this careful balance that makes for a refreshing, memorable and powerful novel – and one that confirms Rourke as a writer of exceptional promise."
 
—Stuart Evers, The Independent (UK)

"Achingly thought-provoking and beautiful... It feels right-up-to-the-minute and urgent."
 
—3:AM Magazine
 
"A strange explosion of a book."
 
—HTML Giant

"Clear prose and some of the best dialog I've read in years. A wonderful book that is partially about trying to escape boredom, becomes a meditation on life and what is meaningful and meaningless and how those things can be frighteningly both. I'm glad I read this book."
—Shane Jones, author of Light Boxes