Willy Loman's Reckless Daughter or Living Truthfully Under Imaginary Circumstances (Paperback)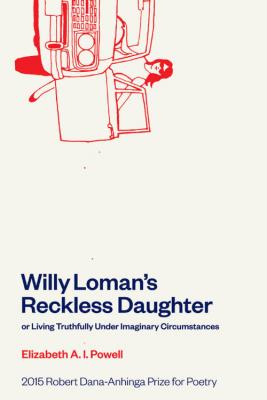 This item is currently unavailable and can not be ordered.
Description
---
Poetry. 2015 Robert Dana-Anhinga Prize for Poetry. "Elizabeth Powell's theatrical book of poems plays out against the backdrop of Arthur Miller's signature play, which is at once a guidepost and a foil for this drama of the self, this poetic meditation on the intermixed American family. Powell's self-correcting poems are smart and high-spirited, vacillating wildly between feelings, between lyric and prose, moving in a short space from high comedy to dark grief. I can't think of another book of poems that is quite like WILLY LOMAN'S RECKLESS DAUGHTER, which keeps bravely crossing 'the line no one wants to write or live.'" Edward Hirsch.
About the Author
---
Elizabeth A. I. Powell is the author of The Republic of Self, which received the New Issues Poetry Prize, selected by C. K. Williams. Her work has appeared in the Pushcart Prize Anthology 2013, as well as Academy of American Poets, Alaska Quarterly Review, Barrow Street, Black Warrior Review, Ecotone, Harvard Review, Handsome, Hobart, Indiana Review, The Missouri Review, Mississippi Review, Ploughshares, Post Road, and elsewhere. She is Editor of Green Mountains Review, and Associate Professor of Writing and Literature at Johnson State College. She also serves on the faculty of the low-residency MFA in Creative Writing at the University of Nebraska-Omaha and the Vermont College of Fine Arts MFA in Writing and Publishing. Born in New York City, she has lived in Vermont since 1989.
Praise For…
---
"From its introductory high-flying, free-wheeling, wildly-penned lyric essay to its final elegy in somber rhymed couplets; with its plays within poems and its prose within plays; with its kaleidoscopes and side-trips and its one woman producer-director who shines in her own theater of the imagination, Elizabeth Powell's Willy Loman's Restless Daughter defies genre categorizations in so many ways, it may be invited to dwell at the top of a mountain in a land so mysterious and so magical, with sun bouncing off its spires and mirrors and roller coasters, that we who are tethered below and lucky enough to enter its pages in wonder, can only call it brilliant." — Maureen Seaton, Judge, 2015 Robert Dana-Anhinga Prize for Poetry

"Elizabeth Powell's theatrical book of poems plays out against the backdrop of Arthur Miller's signature play, which is at once a guidepost and a foil for this drama of the self, this poetic meditation on the intermixed American family. Powell's self-correcting poems are smart and high-spirited, vacillating wildly between feelings, between lyric and prose, moving in a short space from high comedy to dark grief. I can't think of another book of poems that is quite like Willy Loman's Reckless Daughter, which keeps bravely crossing "the line no one wants to write or live." — Edward Hirsch, author of Gabriel: A Poem