A Novel Bookstore (Paperback)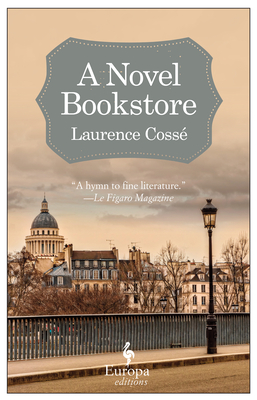 Email or call for price and availability
September 2010 Indie Next List
---
"Ivan has a passion for books, but only 'good' books. Francesca shares his book lust. Together they open a remarkable bookstore in Paris, a store with only 'good' books, a place for readers who love the written word. Initial success is followed by fear and heartbreak as their shop comes under attack. Who is trying to kill the bookstore? This is a treasure for all of us who love books."
— Deon Stonehouse, Sunriver Books, Sunriver, OR
Winter 2011 Reading Group List
---
"Ivan has a passion for books, but only 'good' books. Francesca shares his book lust. Together they open a remarkable bookstore in Paris, a store with only 'good' books, a place for readers who love the written word. Initial success is followed by fear and heartbreak as their shop comes under attack. Who is trying to kill the bookstore? This is a treasure for all of us who love books."
— Deon Stonehouse, Sunriver Books, Sunriver, OR
Description
---
A devotee of Stendhal who has shunned the company of his fellow human beings to live on the outskirts of a tiny village in Savoy is kidnapped and left for dead along a forest road. A middle-aged mother who spends much of her time shuttling her numerous offspring along twisting mountain roads loses control of her car and ends up injured but alive in a gorge. Meanwhile, an elderly man of unbreakable habits is taunted and threatened by two unknown men while on his morning walk along the cliffs of Brittany. Mystery abounds but A Novel Bookstore is no everyday mystery. The victims here are not members of the underworld, toughs or thugs, but mild, meek and apparently ordinary people. In the eyes of their aggressors, they are guilty of only one crime: expressing their tastes in literature. 

Indeed, all three victims are members of The Good Novel's secret selection committee. Tucked away in a corner of Paris, The Good Novel bookstore offers its clientele literary masterpieces, both contemporary and classic, selected by a top-secret committee of authors. The store has proven an instant success, but nobody could have imagined that success would unleash a tide of hatred. Now, there are those who will stop at nothing to destroy The Good Novel. One by one, the pieces of this puzzle fall ominously into place, as it becomes clear to the store's owners, Ivan and Francesca, that their dreams of an ideal place for books may be shattered by envy and violence.

Elegantly mixing the mystery and literary fiction genres, Laurence Cossé has written an enthralling fable for lovers of good books and a heartfelt tribute to fine bookselling.
About the Author
---
Born in 1950 in Boulogne-Billancourt, Laurence Cossé is a critic, novelist, playwright and journalist. She has reported for Radio France and the newspaper Le Quotidien de Paris and interviewed such luminaries as Andrei Tarkovsky and Jorge Luis Borges. Cossé is the author of the satirical thriller, The Corner of the Veil (Scribner), and several historical novels including the bestselling Prime Minister's Woman. A Novel Bookstore is her ninth novel. She lives in France. 

Alison Anderson's translations for Europa Editions include novels by Sélim Nassib, Amélie Nothomb, and Eric-Emmanuel Schmitt. She is the translator of The Elegance of the Hedgehog (Europa, 2008) and The Life of the Elves (Europa, 2016) by Muriel Barbery.
Praise For…
---
Praise for A Novel Bookstore

"Marvelous and stimulating."
—The San Francisco Chronicle

"A hymn to fine literature."
—Le Figaro

"A Novel Bookstore is...a declaration of love for the art of the novel and its effects on human history."
—La Croix 

"Cossé poignantly depicts characters who have turned to literature for solace against the pain in their lives."
—Publisher's Weekly 

"An Agatha Christie-style mystery bolstered by a love story worthy of Madame de la Fayette...Laurence Cossé excels in deconstructing the world of books."
—Madame Figaro 

"A deeply satisfying manifesto of book love and a sharp indictment of those who would use such love for their own evil purposes."
—The Huffington Post 

"Eminently readable, it is a love letter to the novel...and a profound exploration of human nature."
—Library Journal