The Forbidden Game: Golf and the Chinese Dream (Paperback)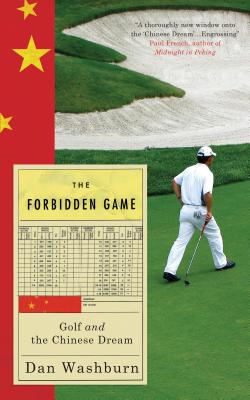 This item is currently unavailable and can not be ordered.
Staff Reviews
---
The Forbidden Game characterizes 21st-century China in all of its paradoxical glory through an examination of its golf industry, which is, well, technically illegal. No matter, though! The sport is thriving, and Washburn's primary cast of characters -- a peasant-turned-pro, a displaced farmer, and an American course developer -- as well as his secondary ones (maniacal billionaires, corrupt politicians, and golf coaches) speak volumes about what this might mean for the country, its emerging middle class, its ecosystem, and its future. Well-researched, entertaining, and wonderfully told. (Chad)
— From
ChadPrime
Description
---
In October 2015, the Chinese Communist Party banned its 88 million members from excessive drinking, improper sexual relationships... and holding golf club memberships. But, with "the rich man's game" about to appear in the Olympics for the first time in 112 years, they also began to spend unprecedented sums on their own national golf team. Through the lives of three men intimately involved in China's bizarre golf scene, Dan Washburn paints an arresting portrait of a country of contradictions. A villager named Wang sees his life transformed when a top-secret golf resort springs up next to his farm - despite the building of golf courses being illegal. Western executive Martin, whose firm manages the construction of golf courses, is always looking over his shoulder for Beijing's "golf police". And for security guard Zhou, making it as a professional golfer could be his way into China's new middle class. Using the unique lens of The Forbidden Game, Washburn gleans rich insights into the politics and people of one of the most powerful and enigmatic nations on earth.
About the Author
---
Dan Washburn is an award-winning reporter and managing editor at the Asia Society. His writing has appeared in the FT Weekend Magazine, the Atlantic, The Economist, ESPN.com, Foreign Policy, Golf World, Slate, the South China Morning Post, and other publications. He is also the founding editor of Shanghaiist.com, one of the most widely read English-language websites about China. After almost a decade spent living in China, he now lives in Brooklyn, New York. Visit Dan online at danwashburn.com.