Two Souls : A Novel (Paperback)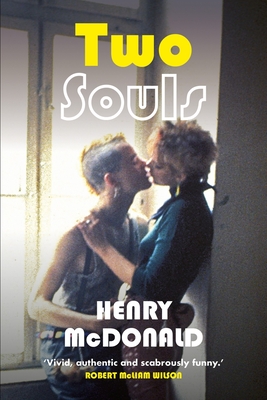 Description
---
Robbie McManus is tortured. His psychopathic comrade 'Padre Pio' McCann is never far from wreaking havoc, his punk cousin 'Rex Mundi' has arrived from England and is getting in the way, his father is imploring him to finish his A-levels and get the hell out of Belfast—and then there's Sabine, the mysterious loner in The Pound who shimmers, trancelike, on the dancefloor to the opening track of David Bowie's Low. Her hair dyed jet black in a Cleopatra cut, she is a moving hieroglyphic that Robbie is desperate to decipher.

From the summer of 1978 to a frenzied Irish Cup Final day nine months later, and, through a series of smuggled 'prison comms,' to the paramilitary-stalked Belfast streets of the late '80s, all threads collide in a tense, thrilling denouement.

At turns shocking and heart-breaking, Two Souls is a deeply affecting novel that crackles and enthralls, tragically exposing human nature's futile efforts to make the right decisions and to choose a life worth living.
About the Author
---
Henry McDonald is a staff writer for The Guardian and The Observer, and has been a journalist covering conflicts around the world. He is the author of eight critically acclaimed non-fiction books.
Praise For…
---
"Buckle up! Henry McDonald's novel takes the reader on a gritty and violent tour through the underbelly of a city where drugs and politics provide a combustible cocktail. It's the author's native city, and he knows its heartbeat … this book should come with an X certificate. —Martin Dillon, author of The Shankill Butchers
"Any novel whose narrator wears an 'I Hate Pink Floyd' T-shirt gets my vote any day." —Julie Burchill, journalist and author
"Withnail and I meets One Flew Over the Cuckoo's Nest with a manic dose of Clockwork Orange thrown in for good measure. Two Souls gets to the roots of the Punk generation in Belfast's darkest recent past, and sheds a light on what went on. You'll not forget this novel in a hurry. I'm still reeling." —Gerald Dawe, Poet and Fellow Emeritus (TCD)
"Luckily, when I lived in Belfast, I didn't know anyone as borderline psychotic as Padre Pio McCann, but like a lot of people, I heard rumours and stories. This one would not have been out of place. Starts fast and gets faster, like a good punk song!" —Jake Burns, Stiff Little Fingers
"He's good on dialogue and, wisely, makes no attempt to homogenise the language on the streets. That potent Belfast patois — with words like 'spide' — is written with the sort of enthusiasm Irvine Welsh employs for the vernacular for the underbelly of his native Edinburgh … theme – that the choices we make determine the course of our lives and sometimes we don't realise the seismic nature of those decisions at the time – fascinates the writer and it's the principal reason why the story stays with you long after the final page."—John Meagher, Belfast Telegraph
"Brimming with testosterone and angst, Henry McDonald's fictional debut Two Souls is an engrossing account of the love lost and blood shed during the Northern Troubles … woven with the blood-thirstiness and anger that spearheaded the conflict in the North, each chapter [is] more vicious than the last…these elements – the violent and vulgar themes throughout would [that] usually deter your reviewer from such a tale – accurately represent damaged lives, and McDonald's revealing account of a troubled neighbourhood comes to life in vivid descriptions. The author knows how to grab the reader. His descriptions are enticing and his way with words nothing short of breathtaking."—Orlagh Doherty, RTÉ
 
"… a novel that channels the kind of Young Adult sex & violence of Richard Allen's punks and skins books … there is something magically Young Adult about Two Souls, the way it captures that moment of initiation into all of the possibilities, though really the inevitabilities, of the future … McDonald presents, just like The Sex Pistols, the cycles of violence we inherit, and which we struggle to forgive, while never being able to forget."—David Keenan, The Irish Times
"At a time when questions of Irish unionism are to the fore again, Henry McDonald's tough, unsentimental new novel reminds us of the human cost of the Troubles. It focuses on Robbie McManus, a bright young man surrounded by the trigger-happy and the unstable, and his struggles to extricate himself from late-70s Belfast against a backdrop of punk and Bowie's Low. McDonald's background in nonfiction (he also writes for the Guardian and Observer) gives this a gripping verisimilitude, and there's an energy to his prose that makes Two Souls an exhilarating read, even as the events depicted spiral into inevitable violence." —Alexander Larman, The Observer
"There is a term sometimes used in Northern Ireland to describe literature that merely trades in the tropes of the Troubles: it's called Troubles trash. Two Souls rummages around in the rubbish but emerges with something rather strange and precious." —Ian Sansom, The Guardian