I Am Slaughter (The Beast Arises #1) (Hardcover)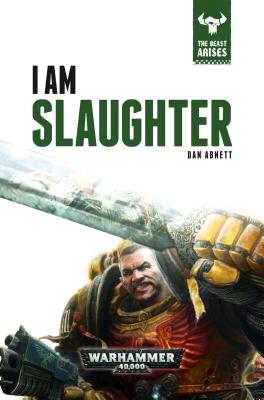 This item is currently unavailable and can not be ordered.
Description
---
As the greatest Ork Waaagh! ever seen threatens to engulf the galaxy, the Imperial Fists make their last stand

It is the thirty-second millennium and the Imperium is at peace. The Traitor Legions of Chaos are but a distant memory and the many alien races that have long plagued mankind are held in check by the Space Marines. When a mission to exterminate one such xenos breed on the world of Ardamantua draws in more of their forces, the Imperial Fists abandon the walls of Terra for the first time in more than a thousand years. And when another, greater, foe strikes, even the heroic sons of Rogal Dorn may be powerless against it. The Beast Arises… and it is mighty.
About the Author
---
Dan Abnett has written over fifty novels, including Anarch, the latest instalment in the acclaimed Gaunt's Ghosts series. He has also written the Ravenor and Eisenhorn books, the most recent of which is The Magos. For the Horus Heresy, he is the author of Horus Rising, Legion, The Unremembered Empire, Know No Fear and Prospero Burns, the last two of which were both New York Times bestsellers. He also scripted Macragge's Honour, the first Horus Heresy graphic novel, as well as numerous audio dramas and short stories set in the Warhammer 40,000 and Warhammer universes. He lives and works in Maidstone, Kent.