Up Jumped the Devil: The Real Life of Robert Johnson (Hardcover)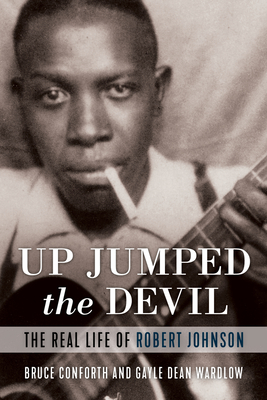 Description
---
Robert Johnson's recordings, made in 1936 and 1937, have profoundly influenced generations of singers, guitarists, and songwriters. Yet until now, his short life—he was murdered at the age of 27—has been poorly documented. Gayle Dean Wardlow has been interviewing people who knew Johnson since the early 1960s, and he was the person who discovered Johnson's death certificate in 1967. Bruce Conforth began his study of Johnson's life and music in 1970 and made it his mission to fill in what was still unknown about him. In this definitive biography, the two authors relied on every interview, resource, and document, much of it material no one has seen before. This is the first book about Johnson that documents his lifelong relationship with family and friends in Memphis, details his trip to New York, uncovers where and when his wife Virginia died and the impact this had on him, fully portrays the other women Johnson was involved with, and tells exactly how and why he died and who gave him the poison that killed him. Up Jumped the Devil will astonish blues fans worldwide by painting a living, breathing portrait of a man who was heretofore little more than a legend.
About the Author
---
Bruce Conforth, former professor of folklore, blues, popular culture, and American history at the University of Michigan, was the founding curator of the Rock and Roll Hall of Fame. He lives in Ann Arbor, Michigan. Gayle Dean Wardlow is a highly regarded blues historian who has amassed one of the world's largest collections of prewar blues records. His book Chasin' That Devil Music is a classic of blues literature. He lives in Pensacola, Florida.
Praise For…
---
"This is the book the blues world has been waiting for. Authored by two uniquely qualified scholars following years of extensive interviews and exhaustive research, the result is fascinating, important, and factual, without agenda or embellished narrative. . . . It is in my view a far more moving account than many others that have been obscured by so much fantasy. It's a can't-put-it-down kind of book—an exciting, great read." —Rory Block, celebrated acoustic blues guitarist/singer and five-time Blues Music Award winner
"Finally an in-depth biography of one of the greatest blues musicians ever. The clearing up of the myths and mysteries is a relief. The work of the authors is meticulous. They detail Robert Johnson's journey with facts, creating a full view of his life and times, his friends and influences, so the reader has a comprehensive understanding of how he came to be the greatest of the Delta bluesmen. I am blown away!" —John Hammond, Jr.
"Conforth and Wardlow have done amazing research, turning up a wealth of new details and clearing up mysteries I never imagined could be solved. This is the definitive Robert Johnson biography, and no one interested in his life, his legend, or his music can afford to miss it. I read it in one sitting, and will reread it gratefully in the future." —Elijah Wald, author of Escaping the Delta: Robert Johnson and the Invention of the Blues
"Some people will tell you that blues legend Robert Johnson lived under a curse, but it's actually research into Johnson's life that's been bedeviled. Three of my friends died before publishing their books on him, and for a long time I've feared we might never get a reliable account of this artist's life and times. Finally the curse has been lifted. Bruce Conforth and Gayle Dean Wardlow started researching Robert Johnson and the Delta blues tradition more than a half-century ago, and they are now sharing their hard-won insights into the most mysterious man in the annals of American music. If you want the straight story on Robert Johnson, this is where you start." —Ted Gioia, author of Delta Blues and The History of Jazz
"Up Jumped the Devil is a tremendously important work. It not only finally reveals everything we wanted to know about Robert Johnson, but will rewrite the history of the blues." —Lawrence Cohn, Grammy-winning producer of Robert Johnson: The Complete Recordings and author of Nothing But the Blues

"This in-depth portrait of Johnson's life and times will be mighty hard to improve upon." --Kirkus Reviews
"As the grandson of the iconic blues singer Robert Johnson, I'm honored that the truth is finally being revealed. . . . Up Jumped the Devil contains the real story of his life and does away with all the myths." —Steven Johnson, vice president, Robert Johnson Blues Foundation


"an important and revealing new biography." —Barry Mazor, Chapter 16
"A compelling narrative of the life of Robert Johnson, succinct and poignant, revealing the immensity of his blues and the mysteries of the man, debunking myths that have overshadowed the truth while illuminating the memories and first-person accounts diligently collected by the authors over more than five decades." —Alan Govenar, author of Texas Blues, Lightnin' Hopkins, and Stompin' at the Savoy
"It is really incredible that after all these years celebrating the work of Robert Johnson, new information still keeps emerging. I would recommend this book to anyone interested in this man's haunting legacy." —John Mayall, OBE, legendary blues musician and member, Blues Hall of Fame

"Up Jumped the Devil gives us Robert Johnson the man, as opposed to the myth that developed. As such it is required reading for any blues fan, and indeed, for any serious music fan." --Down at the Crossroads
 
"This will be a must for those interested in vernacular music history and one of the blues' greatest artists." --Ron Weinstock from In a Blue Mood  blog

"The essential document for anyone interested in the devil's music which [Johnson] will always embody." --Kris Needs in MOJO
"It's the most comprehensive biography yet of this fascinating figure." --Acoustic Guitar Magazine

"Robert Leroy Johnson's legend needs this book." — Goldmine Magazine