Flowers over the Inferno (A Teresa Battaglia Novel #1) (Hardcover)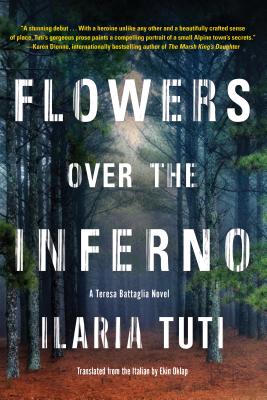 $25.95
Usually Ships in 1-5 Days
Other Books in Series
This is book number 1 in the A Teresa Battaglia Novel series.
Description
---
Ilaria Tuti's debut thriller explores a remote community in Northern Italy—a place of secrets, eerie folktales, and primal instincts.
 
In a quiet village surrounded by ancient woods and the imposing Italian Alps, a man is found naked with his eyes gouged out. It is the first in a string of gruesome murders.
 
Superintendent Teresa Battaglia, a detective with a background in criminal profiling, is called to investigate. Battaglia is in her mid-sixties, her rank and expertise hard-won from decades of battling for respect in a male-dominated Italian police force. While she's not sure she trusts the young city inspector assigned to assist her, she sees right away that this is no ordinary case: buried deep in these mountains is a dark history that may endanger a group of eight-year-old children toward whom the killer seems to gravitate.
 
As Teresa inches closer to the truth, she must also confront the possibility that her body and mind, worn down by age and illness, may fail her before the chase is over.
About the Author
---
Ilaria Tuti lives in Gemona del Friuli, in the province of Udine. She has a degree in economics, has always had a passion for painting, and freelances for a small independent publisher in her spare time. She won the 2014 Gran Giallo Città di Cattolica literary prize for her short story "The Pagan Child." Flowers over the Inferno is her debut novel.
 
Ekin Oklap was born in Turkey, and grew up in Italy. She translates from Turkish and Italian. She currently lives in London, where she works as a literary agent. As a translator, she was shortlisted for the 2016 Man Booker International Prize.
Praise For…
---
A Times (UK) Book of the Month

Praise for Flowers over the Inferno

"Ms. Tuti's debut, translated from the Italian by Ekin Oklap, introduces a sympathetic heroine in Battaglia, whose gruffness masks a fear she may be losing her unique abilities." 
—The Wall Street Journal

"One of the best parts of Flowers over the Inferno is the older, gruff superintendent Teresa Battaglia. She is out of shape, diabetic and busy fighting the early stages of Alzheimer's disease—on top of handling a complex case. We sympathize with Battaglia quite naturally, and it's nice to see a cop who isn't slim and sexy chasing after serial killers." 
—NPR

"Superintendent Teresa Battaglia, a criminal profile expert, is in her sixties, overweight, lonely, diabetic, full of the ailments of aging—and delightful. It's rare that such a character enters crime fiction for the first time, and with such gripping impact."
—The Times (UK)

"Creepy and evocative . . . But what gives this novel particular appeal is the sixty-something central character, whose abrasive manner hides a warm heart."
—The Guardian                  

"Ilaria Tuti's Flowers over the Inferno is a stunning debut; a deliciously dark and action-packed thriller that is also deeply moving, even profound. With a heroine unlike any other and a beautifully crafted sense of place, Tuti's gorgeous prose paints a compelling portrait of a small Alpine town's secrets and the woman tasked with uncovering them. I loved this book."
—Karen Dionne, internationally bestselling author of The Marsh King's Daughter

"Teresa Battaglia is one of the most interesting detectives to emerge in recent years; flawed but full of heart, sarcastic yet still commanding loyalty from her team. Flowers over the Inferno is an astonishing debut."
—M. W. Craven, author of The Puppet Show

"In Teresa Battaglia, Ilaria Tuti has created not only a protagonist, but a real, three-dimensional person who goes beyond the page."
—Donato Carrisi, author of The Girl in the Fog
 
"Tuti has managed the near-impossible in creating a genuinely unique character in Teresa Battaglia. I was rooting for her from the start as she expertly steers a creepy murder investigation in an atmospheric Alpine setting."
—Sarah Ward, author of In Bitter Chill

"So entertaining."
—Book Riot 

"The plot is complex, chilling but compelling . . . An unsettling thriller with a heroine I loved, a smart cop who is female, a fighter, blunt and mature."
—Fresh Fiction

"Reading Ilaria Tuti's spellbinding debut mystery was a breath of fresh air . . . Everything about Flowers Over the Inferno is unique, strange, different, and special. It is the perfect example of how an aspiring author's debut novel should be written . . . A novel so bizarre that it makes me wonder if she is a descendant of Edgar Allan Poe."
—The Gumshoe Review

"Flowers Over the Inferno is an action-packed thriller with a unique serial killer and a multilayered, deep, and incredibly entertaining main character battling at its core."
—Criminal Element

"A clockwork plot and a suitable sense of place which verges on both the ominous and the exotic, this was a major hit back in its own country, and one understands why. Impeccable crime writing."
—Crime Time 

"Ilaria Tuti's Flowers Over the Inferno is a dazzling debut. It's a skillfully crafted, beautifully written thriller with an unforgettable heroine. It will hold you in its chilling, atmospheric thrall from start to finish."
—Open Letters Monthly

"Watching Teresa's struggles with both her mind and the challenges of the case, as well as her intelligence and understanding of humanity keeps the reader engaged and turning the pages . . . Further novels promise both interesting mysteries and equally interesting character development."
—Reviewing the Evidence

"The are lots of different layers to the book. It's a great story and it really works . . . not your typical serial killer book."
—The Inside Flap

"A thriller that enters into the corners of the soul, and introduces an author to watch."
—Marie Claire (Italy)
 
"Ilaria Tuti's debut is a thriller, but through mystery and death, it speaks of life."
—Vanity Fair (Italy)
 
"Tuti's thriller satisfies on multiple fronts . . . Battaglia's armor, bolstered by the very physical and emotional problems that undermine it, occasionally cracks to reveal glimpses of humanity."
—Wired (Italy)

"The most highly anticipated noir debut of 2018 . . . set in the chill of the Dolomites and that of the soul."
—Repubblica

"If you are looking for a chilling murder mystery set in a landscape so majestic that it takes your breath away and fills your soul, head off to the Alps with the intriguing Detective Superintendent Teresa Battaglia . . . A stunning and atmospheric debut . . . Exciting, ice-coated, chilling and thrilling, Flowers over the Inferno welcomes readers to the deepest, darkest shades of Italian Noir." 
—Lancashire Post           

"Exhilarating . . . Teresa, who must deal with casual and constant sexism in her position of authority, is an unforgettable character readers will want to see a lot more of."
—Publishers Weekly, Starred Review

"Tuti—who lives in the far northeast of Italy—has produced in Flowers over the Inferno a debut novel of real skill . . . The real accomplishment here lies in the distinctive heroine, with the beleaguered Teresa not just engaged in a struggle with a ruthless killer but also with her own body." 
—European Literature Network 

"Fasten your seatbelts: Teresa Battaglia is one of the best characters I've come across in a long, long time . . . She does not suffer fools gladly, but you will seldom ever find a character who has more empathy and compassion." 
—Kittling Books

"Tuti has a remarkable voice . . . Flowers Over the Inferno is an incredible book which will be on my 'Best of 2019' list. How wonderful to know this is the first of a trilogy." 
—It Is Purely My Opinion blog