The Saffron Tales: Recipes from the Persian Kitchen (Hardcover)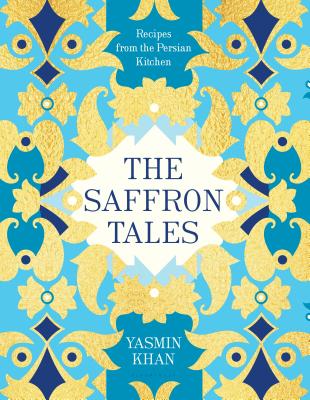 $37.00
Usually Ships in 1-5 Days
Description
---
Winner of the M.F.K Fisher Award for Excellence in Culinary Writing from Les Dames d'Escoffier
New York Times Best Cookbooks of the Year
Wall Street Journal Best Cookbooks of the Year
BBC Food Programme Best Cookbooks of the Year

A glorious celebration of the food and people of Iran, featuring stories from home kitchens and more than 80 delicious, modern recipes.

"This is so much more than a compilation of recipes, gorgeous though they themselves are. This is a book that tells a story, both cultural and personal, and her voice is as engaging as her food." --Nigella Lawson

"Barberries, fresh herbs, date molasses, dried limes, saffron; Yasmin's Persian pantry staples are a roll call of my favourite ingredients. Her recipes are a mouthwatering showcase of a beautiful country." --Yotam Ottolenghi
"Not just a great cookbook but a book full of stories – a love letter to Iran and its people." --Diana Henry
Armed with little more than a notebook and a bottle of pomegranate molasses, and fueled by memories of her family's farm in the lush seaside province of Gilan, British-Iranian cook Yasmin Khan traversed Iran in search of the most delicious recipes for this Persian cookbook.
Her quest took her from the snowy mountains of Tabriz to the cosmopolitan cafés of Tehran and the pomegranate orchards of Isfahan, where she was welcomed into the homes of artists, farmers, electricians, and teachers. Through her travels, she gained a unique insight into the culinary secrets of the Persian kitchen, and the lives of ordinary Iranians today.
In The Saffron Tales, Yasmin weaves together a tapestry of stories from Iranian home kitchens with exclusive photography and fragrant, modern recipes that are rooted in the rich tradition of Persian cooking. All fully accessible for the home cook, Yasmin's recipes range from the inimitable fesenjoon (chicken with walnuts and pomegranates) to kofte berenji (lamb meatballs stuffed with prunes and barberries) and ghalyieh maygoo (shrimp, coriander, and tamarind stew). She also offers a wealth of vegetarian dishes, including tahcheen (baked saffron and eggplant rice) and domaj (mixed herb, flatbread, and feta salad), as well as sumptuous desserts such as rose and almond cake, and sour cherry and dark chocolate cookies.
With stunning photography from all corners of Iran and gorgeous recipe images, this lavish cookbook rejoices in the land, life, flavors, and food of an enigmatic and beautiful country.
About the Author
---
Yasmin Khan is a writer and cook from London who loves to share people's stories through food. An avid traveler whose passport is never too far from her pocket, she runs cooking classes, pop-up supper clubs and writing retreats around the world. Prior to immersing herself in the fragrances and flavors of the Persian kitchen, Yasmin worked as a human rights campaigner, running national and international campaigns for NGOs and grassroots groups, with a special focus on the Middle East. Yasmin is a columnist for Food52 and her writing has been published in the Guardian, the Observer, the Independent, the Telegraph, the New Statesman, Jamie Magazine, Sainsbury's magazine, Saveur, Roads and Kingdoms, AFAR and Stylist amongst others. She has also worked as a public speaker for 15 years, delivering hundreds of expert talks to diverse audiences across the globe. She is the author of Zaitoun.
http://yasminkhanstories.com/
Praise For…
---
"Yasmin Khan has lived and traveled widely in Iran, and The Saffron Tales . . . reflects traditions she knows intimately. But she has the rare gift of being able to translate her personal heritage into recipes even newcomers will be able to pull off." - The New York Times Book Review
"Yasmin Khan traversed Iran in search of the country's most delicious recipes, adding her own modern twist to each dish." - The Independent
"One of the more engrossing cookbooks I read this year . . . Nations speak and, in some cases, survive through their culinary traditions. This book is an incomparable and important examination of Iranian society through its kitchens and cuisine." - Jessica Koslow, The Wall Street Journal
"Of all the books I read for this roundup, [The Saffron Tales] had the most recipes I wanted to try. The combination of simple and unusual gets me every time. An omelette with dates and cinnamon was a delight. Olives marinated with walnuts and pomegranates were cocktail-hour crack." - The Wall Street Journal
"[Khan's] food is a sensitive balance of tradition with modern tweaks." - Los Angeles Times
"Yasmin celebrates the rich history of Persian food with accessible recipes and enticing photographs. Fan of Ottolenghi? You'll love this!" - Good Housekeeping
"A truly impressive culinary compendium showcasing and celebrating the cuisine of Iran . . . enjoyable . . . inspiring . . . The Saffron Tales is strongly recommended and certain to be an enduringly popular addition to personal, professional, family, and community library cookbook collections." - Midwest Book Review
"This is so much more than a compilation of recipes, gorgeous though they themselves are. This is a book that tells a story, both cultural and personal, and her voice is as engaging as her food." - Nigella Lawson
"Yasmin's recipes are a mouthwatering showcase of a beautiful country." - Yotam Ottolenghi
"Not just a great cookbook but a book full of stories--a love letter to Iran and its people." - Diana Henry
"Yasmin Khan draws on her vast experience as a storyteller, cook, human rights activist, itinerant traveler and writer to create a moving, empathetic, hugely knowledgeable and utterly delicious book."
- Anthony Bourdain on ZAITOUN