The Cowboy Bible and Other Stories (Paperback)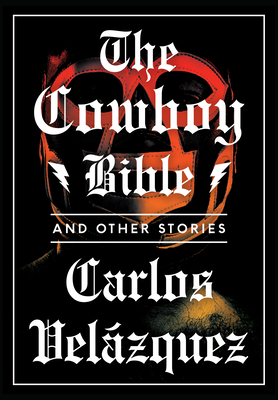 This item is currently unavailable and can not be ordered.
Description
---
"A mix of such otherworldly scenarios, pop culture references and linguistic inventiveness comes remarkably together for a brazen social and political commentary on modern Mexican reality." —NPR Books

The English-language debut of "one of the most original and entertaining voices in contemporary Mexican literature" (Revista Gatopardo): a collection of surreal, ironic, and madcap stories about the comedy and brutality of life in Mexico.

The provocateur and cult sensation Carlos Velázquez has earned comparisons to Hunter S. Thompson, Charles Bukowski, and William S. Burroughs, and has been called "a grand storyteller" (Diario Jornada) and "an icon" (Frente). In these seven surreal and unsettling tales, he portrays the comedy and brutality of a region that has captivated the North American imagination.

Akin to Márquez's Macondo or Faulkner's Yoknapatawpha County, Velázquez's PopSTock! is a fictional territory in a familiar but strange northern Mexico. Throughout the stories is woven the Cowboy Bible—a mystical and protean object that first appears as the talisman of a Santería-practicing luchador, DJ, and art critic, then later morphs into an unbeatable marathon drinker, a scion of a fried-chicken vendor dynasty who becomes a Communist guerilla freedom fighter, and the leather for a pair of boots so coveted that it leads a man to grant the devil a night with his wife. With such otherworldly scenarios, pop-culture panache, and Velázquez's linguistic inventiveness, The Cowboy Bible is a brazen commentary on modern Mexican reality.
About the Author
---
Born in Coahuila, Mexico in 1978, Carlos Velázquez is the author of story collections Cuco Sánchez blues (2004), La biblia vaquera (named one of the books of the year by Reforma in 2009), and La marrana negra de la literatura rosa (2010). He received the Premio Nacional de Cuento Magdalena Mondragón and has been anthologized in el Fondo de Cultura Económica's Anuario de poesia mexicana 2007.

Born in Havana, Cuba, Achy Obejas has written fiction, poetry, and journalism. She is the author of five books, including three novels: Days of Awe, Memory Mambo, and Ruins. Her poetry chapbook, This is What Happened in Our Other Life, was both a critical favorite and a bestseller. She is trained as a journalist and has worked in the alternative press, including In These Times, where she writes a monthly column, and The Chicago Tribune. A translator between Spanish and English, she translated into Spanish Junot Díaz's The Brief Wondrous Life of Oscar Wao and This is How You Lose Her and into English such contemporary Latin American writers as Rita Indiana, F. G. Haghenbeck ,and Wendy Guerra. She is the recipient of a USA Ford Fellowship, a Woodrow Wilson Visiting Fellowship, a team Pulitzer Prize for the series "Gateway to Gridlock" while at the Tribune, a National Endowment for the Arts Fellowship in poetry, the Studs Terkel Journalism Award, and a Cintas Foundation Fellowship. She is currently the Distinguished Visiting Writer at Mills College in Oakland, California.
Praise For…
---
"All of the stories are distinct but share similarities in tone and structure: layers of pop culture references, quoted verses and song lyrics, and references to events mentioned in other portions of the book. In her translation, Obejas superbly amplifies Velázquez's style. Playful and clever, inventive but familiar, this brief book is deeply satisfying, and warrants multiple readings."

—Publishers Weekly Pick of the Week

"?The Cowboy Bible will challenge readers to push beyond cultural stereotypes and rethink everything they know about northern Mexico and their homes."

—Arturo Conde, NBC News Latino

"It is too cute to call him a prankster. He is La Diva. In English we grapple for a comparison: he is a sex-obsessed Mexican iteration of Mark Leyner. He is the post-postmodern Bukowski of his own bar in PopSTock!—the region he, of course, invented. His stories are the hard-drinking Spanglish cousins of Faulkner, Houllebecq, and Terry Southern. He piles on absurdity and zany asides to make a slapstick literary encounter par excellence. It's Trout Fishing in America set in a telenovela only imagined in the machismo mind. Obviously it's pointless to keep grappling for a comparison since true artists have none . . . Velázquez picks up the raw material of colloquial Spanish and twists it together with Norteño aphorisms, pop culture portmanteaus, and his own slang nicknames for everything to create a wholly original Joycean method of expressing himself . . . Velázquez personifies the escritor who experiences life not just so he can write about it, but whose writing lives in service to the experience of being alive in a body. He doesn't just live, he turns life back into a relivable experience of imagination and pleasure. Carlos Velázquez is a fiery innovator, a zeugmatic radical. His stories are brief but they pack a walloping dose of genuine courage. He is a rockstar cabron who coins verbs (humangenomemap), spawns nouns (punkospine), lives on and off the page and the stage—and his musical instrument is The Cowboy Bible."

—Matt Bucher, Mexico City Lit

"Wonderfully weird . . . The Cowboy Bible is crude, inventive, bizarre & altogether a new beast in Mexican Literature. I love it."

—Mark Haber, Brazos Bookstore (Houston, TX)

"With powerful prose, Carlos Velázquez collection, The Cowboy Bible and Other Stories, paints a picture of a place where corruption and violence reign supreme. Largely set in Northern Mexico, the collection is a gritty allegory on power and politics; organized into tongue-in-cheek categories of 'Fiction,' 'Non-fiction' and 'Neither Non-Fiction nor Fiction,' each story carries an undercurrent of brash violence and ugliness. From a woman who tries to bet against the biggest drug lord in a city to a norteño who moves back to Mexico from New York to get rid of his gun, Velázquez juxtaposes the real and the absurd in a way that brings light to otherwise grim topics. And in many ways, this is the collection's saving grace. Similar to Denis Johnson's Jesus' Son, the stories deal with revelatory, intensely human themes. However, thanks to Velázquez's inventiveness and ability to amend the ordinary, he creates a somewhat lighthearted world where serious topics are tackled with humor. Throughout the collection, disparate elements mix together to create something larger than each individual part. With caustic lines like, 'A caravan sponsored by Coca-Cola led the way, polar bears included,' Velázquez succeeds in a scrutinizing discourse that, with the addition of fantasy, allows readers to blithely follow the author's polemic without being beaten over it. Call it modern magical realism or call it surrealistic, either way it is a small feat indeed . . . Velázquez's prose jumps off the page. Whether he is casting judgment on 21st century ills of corporatism or highlighting the lack of agency of individuals, his writing grabs readers' attention. The Cowboy Bible and Other Stories is a testament to modern magical realism that will delight the inner skeptic in all of us."

—Tobias Carroll, Electric Literature

"Inside, you'll find—as the ominous, delirious cover suggests—a host of strange, unsettling short stories, which share the shifting object alluded to in the title at their center."

—Vol. 1 Brooklyn

"The Cowboy Bible is a punch in the face from a wrestler who is also a DJ, a dealer, or a mezcal drinker; a punch that makes you lose your ground. It knocks you out only to bring you back into reality—the Mexican modern reality . . . In her translation, Achy Obejas preserves the smoothness of the text . . . Obejas brilliantly manages to transmit the blunt succinctness of Velazquez' narrative without losing the Mexican folklore."

—Asymptote Journal