Gemsigns ((R)evolution #1) (Paperback)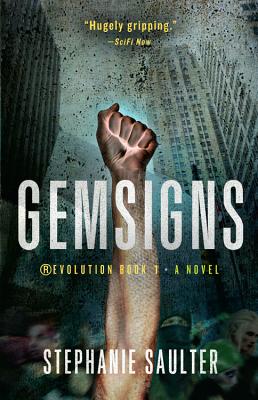 This item is currently unavailable and can not be ordered.
Other Books in Series
This is book number 1 in the (R)evolution series.
Description
---
Gems - genetically modified people - were created to save humanity. But they, too, are human and now they must fight to save themselves.
For years the human race was nearly decimated from a deadly syndrome, but when a cure was found--in the form of genetically engineered human beings, Gems--but the line between survival and ethics was radically crossed.
With physical and mental adaptions, Gems worked the jobs that normal human beings could not, branded with a gem sign: glowing, neon-colored hair or other physical difference engineered into their anatomy, forever setting them apart from the Norms they were bred to serve.
Now the Gems are fighting for their freedom. Fighting the oppression of the companies that created them, and against the "norms" who see them as slaves.
As violence begins to threaten the severely stratified society and international conference is scheduled to decide this critical civil rights issue once and for all.
About the Author
---
Born in Jamaica, Stephanie Saulter studied biology at MIT before majoring in English literature and minoring in anthropology. Interested in developing social media for creative collaboration, in 2010 she launched www.scriptopus.com, an interactive website for writing short fiction. She lives in London.
Praise For…
---
"Like all the best science fiction, the ®Evolution series uses its speculative construct to examine aspects of modern life, in this case tolerance and the benefits of multiculturalism."—GeekDad

"Gemsigns is a modern-day dystopian masterpiece, and Stephanie Saulter adroitly weaves into her SciFi novel a mixture of politics, philosophy, science, corporate greed, and slavery. It's a book that will make you consider what it means to be called human."—The Guardian Liberty Voice

"a fascinating and compelling read, exploring the boundaries of human behavior, religious influences, and the morality of the everyday person. It comes highly recommended."—Starburst magazine

"Well-written and thought provoking, Gemsigns is an all-around superb debut from Stephanie Saulter"—Bibliosanctum

"It's more of an experience than just a mere story, a new world rather than a mere novel. It's very possibly one of the best things I'm going to read this year. Social sci-fi just doesn't get any better than this!"—Bibliotropic