Go to Work and Do Your Job. Care for Your Children. Pay Your Bills. Obey the Law. Buy Products. (Paperback)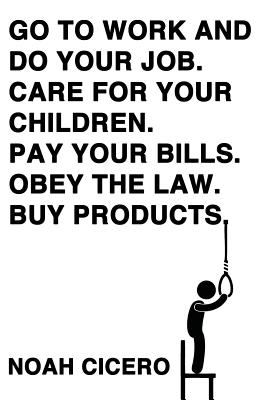 Email or call for price and availability
Usually Ships in 1-5 Days
Description
---
Meet Mike. Mike wants to be a responsible human, but he's buried in student loans and job prospects are bleak in the down economy. What he needs is a well-paying job that provides health care. This is what leads Mike to accepting a job at NEOTAP, a government-run prison.
But NEOTAP is unlike any other prison. NEOTAP is a place where the employees are treated no better than the prisoners. Where your personal conversations are monitored. Wait, do you feel that? That's not the ever-loving presence of God you feel. It's NEOTAP, watching you right now. Worst of all, employees and prisoners alike are disappearing from NEOTAP. People who show up for work one day might be gone the next, their existence erased from all NEOTAP records.
After becoming aware of the string of disappearances, Mike and Monica Whitten, a fellow NEOTAP employee, team up to discover the truth behind NEOTAP. But before Mike and Monica discover the violent uprising on the horizon, they will drink pumpkin spice lattes from Starbucks, they will watch movies on Netflix, they will form a meaningful relationship in hopes of one day achieving the five pillars of a happy life.
Repeat after me:
Go to work and do your job. Care for your children. Pay your bills. Obey the law. Buy products.