Maggie & Me: Coming Out and Coming of Age in 1980s Scotland (Paperback)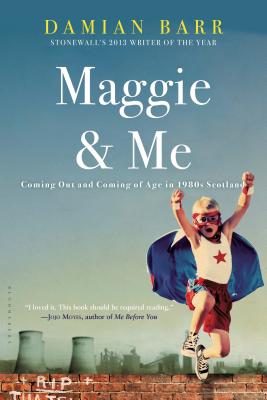 $16.00
Special Order: Please email for availability
Staff Reviews
---
Damian Barr came of age in industrial Scotland in the 1980s, and in this memoir, he's not afraid to get dirt on his hands -- but he's also capable of allowing the reader to laugh with him in hindsight. He is a smart kid with unavailable (and sometimes abusive) parents, and we see him survive the bullying, meet his first boyfriend, meet his first girlfriend, and eventually enter the world as an adult, though only after many difficult (and sometimes hilarious) situations. Kids develop the darndest coping mechanisms, and yet, somehow, most of us emerge -- not unscathed, but at least on two feet and moving forward. Think Billy Elliot meets David Sedaris and Augusten Burroughs. (Emily)
— From
Emily
Damian Barr came of age in industrial Scotland in the 1980s, and in this memoir, he's not afraid to get dirt on his hands -- but he's also capable of allowing the reader to laugh with him in hindsight. He is a smart kid with unavailable (and sometimes abusive) parents, and we see him survive the bullying, meet his first boyfriend, meet his first girlfriend, and eventually enter the world as an adult, though only after many difficult (and sometimes hilarious) situations. Kids develop the darndest coping mechanisms, and yet, somehow, most of us emerge -- not unscathed, but at least on two feet and moving forward. Think Billy Elliot meets David Sedaris and Augusten Burroughs. (Emily)
— From
Emily
Description
---
On October 12, 1984, an IRA bomb blows apart the Grand Hotel in Brighton, England. Miraculously, Margaret Thatcher survives. Meanwhile, in small-town Scotland, eight-year-old Damian Barr watches in horror as his mother rips her wedding ring off and packs their bags. He knows he, too, must survive.
Damian, his sister, and his Catholic mother move in with her sinister new boyfriend, while his Protestant dad shacks up with the glamorous "Mary the Canary." Divided by sectarian suspicion, the community is held together by the sprawling Ravenscraig Steelworks. But darkness threatens as Thatcher takes hold: she snatches school milk, smashes the unions, and makes greed good. But Damian follows Maggie's advice, working hard and planning his escape. He discovers that stories can save your life, and-in spite of violence, strikes, and AIDS-manages to fall in love dancing to Madonna in Glasgow's only gay club.
Maggie & Me is a touching and darkly witty memoir about surviving Thatcher's Britain.It's about coming out the other side in spite of, and maybe because of, the Iron Lady.
About the Author
---
Damian Barr has been a journalist for more ten years writing mostly for The Times (UK) but also the Independent, the Telegraph, Financial Times, the Guardian, and Granta. He is the author of Get It Together: A Guide to Surviving Your Quarterlife Crisis, featured on Richard & Judy, and has cowritten two plays for BBC Radio 4. He is a fellow of the Royal Society of Arts and host of the infamous Shoreditch House Literary Salon. He lives in Brighton, England. Follow him on Twitter at @Damian_Barr.
Praise For…
---
"Engrossing . . . Maggie & Me may be a highly personal tale, but the emotions are relatable and universal. This book is full of vivid episodes . . . Barr captures the wonderful and horrible events in his life with candor and humor, which is why Maggie & Me is ultimately life-affirming." —Philadelphia Gay News
"Barr tells a wonderful story, demonstrating the remarkable resilience of a child not only surviving, but succeeding in such a grand way." —Kirkus Reviews
"Told with dark humor, Barr's book offers vivid descriptions of life in working-class Scotland." —Library Journal
"Damian Barr sifts through the wreckage of a horrific childhood and manages to extract humour, generosity of spirit and ultimately joy, and he does it with a literary élan that had me re-reading whole paragraphs, just for the pleasure of it. To say I loved it doesn't begin to convey the mixture of emotions--tears, laughter, anger--I felt while reading it. This book should be required reading for children who need to know that there is life beyond an appalling beginning, and for politicians who prefer to look the other way." —Jojo Moyes, author of Me Before You
"A marvelous memoir--wrenching, funny and wise. I loved it!" —Joanne Harris, author of Chocolat
"Pin-sharp. A poignant and often humorous memoir, full of energy and life." —Sunday Times, Memoir of the Year
"Damian Barr's wonderful memoir Maggie & Me . . . was the coming-of-age story of this year" —Louise Doughty, Observer Books of the Year
"Superb . . . By turns funny, tender, and heartbreaking, it is also a useful primer for anyone too young to remember what life was like in the industrial areas of Britain enduring the changes wrought by Thatcherism . . . [Barr's] calm, factual recounting of the abuse means it is all the more compelling and his restraint is commendable . . . . [He is] a gifted storyteller, weaving skillfully back and forth through time, and his unfussy prose flows delightfully . . . Splendid." —Independent on Sunday
"Certain memoirs catch a moment and seem to define it, bottle it . . . Damian Barr, I suspect, is about to do something of the same with this hugely entertaining book . . . Full to the brim with poignancy, humour, brutality and energetic and sometimes shimmering prose, the book confounds one's assumptions about those years and drenches the whole era in an emotionally charged comic grandeur. It is hugely affecting . . . Fond, funny, involving and at times emotionally wrenching . . . Richly textured . . . Highly intelligent and often haunting." —Andrew Holgate, Sunday Times
"Damien Barr's Maggie & Me is easily my favourite book of 2013 ... Maggie went just as this book was being published and of all the biographies and memoirs of the great woman this is the most unusual and the most profound. Barr's life developed at the rough end of Thatcher's Britain. He is Scottish, the son of a miner and gay. But there isn't a trace of bitterness in the beautiful book. Only the radiant eloquence of a man whose courage and humanity shine from its pages." —Alan Johnson, New Statesman Books of the Year
"I was dazzled by the energy and verve of Damian Barr's memoir, Maggie & Me . . . . I've been shoving copies into people's hands all year. " —Johanna Thomas-Corr, Evening Standard Books of the Year
"As gripping as a thriller, laugh-out-loud funny and deeply touching, this book will resonate long after you finish it. A triumph." —S.J. Watson, author of Before I Go to Sleep
"This amazing book tells the story of an appalling childhood with truth and clarity unsmudged by self-pity. It grips from beginning to end and leaves the reader elated at the fact that such experiences can be overcome and produce a man who can write a book so vivid, so unsentimentally forgiving and so memorable." —Diana Athill
"I . . . loved Maggie & Me by Damian Barr . . . . Written with beautiful clarity and no self-pity--I look forward to seeing what he does next." —Stephanie Merritt, Observer Books of the Year
"[A] brief, charming, life-enhancing [read]. " —Melanie Reid, The Times Books of the Year
"I should add mention, too, of Damian Barr's memoir Maggie & Me, about growing up gay in working-class Scotland during the 80s. He's a friend, so I should direct you rather to what others have said about it--it was widely and rightly admired." —Sam Leith, Guardian Books of the Year
"Admiringly deadpan . . . A well-known and talented writer . . . Do read his book . . . Barr captures very well how it is possible to learn and to love even in the most unpropitious environment. His book is the better for the strange loyalty it shows to the place he fled." —Charles Moore, Daily Telegraph
"Zestfully observed, sharply written, and sprinkled with more lyricism and humour than a memoir of misery in Motherwell suggests." —Boyd Tonkin, Independent
"This memoir of deprivation and survival is shrewdly constructed and written with a winning dry humour." —Adam Mars-Jones, Guardian
"A brilliant, laugh-out-loud and profoundly moving Eighties memoir." —GQ (UK)
"An affecting memoir." —Arifa Akbar, Independent Books of the Year
"Barr has a keen eye for wincingly evocative detail . . . Expressed with a kind of grim lyricism." —New Statesman
"Out of poverty, brutality and prejudice, Damian Barr builds something riveting, touching and painfully funny. His account of growing up under Thatcher's regime defines the experience of a generation. At once personal and universal, Maggie & Me is a work of stealthy genius." —Maggie O'Farrell
"Barr captures the mood perfectly." —Mail on Sunday Books of the Year
"A nuanced, subtle and original account . . . A memoir which is both personally moving and a valuable historical document. Barr's style is conversational, intimate and convincing, and he resists every opportunity to show off. He holds his nerve tackling the unfashionableness of his thesis--that Thatcher inspired even those she seemed to despise--and makes us smile along the way." —Christena Appleyard, Literary Review
"An inspiring read." —Marie Claire (UK)
"With a playful prose, both light and expressive, Barr's [story] is an account of optimism and the bold pursuit of a happier future." —Lambda Literary