Dance of the Jakaranda (Paperback)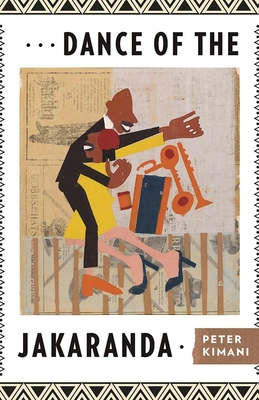 Description
---
Peter Kimani has been nominated for the 2018 Grand Prix des Associations Litt raires, Cat gorie Belles-Lettres
Nominated for the 2018/2019 People's Book Prize
"This funny, perceptive and ambitious work of historical fiction by a Kenyan poet and novelist explores his country's colonial past and its legacy through the stories of three men involved with the building of a railroad linking Lake Victoria and the Indian Ocean--what the Kikuyu called the 'Iron Snake' and the British called the 'Lunatic Express.'"
--New York Times Book Review, Editors' Choice
"Kimani has done a game job managing the carpentry of this ambitious novel, bringing great skill to the task of deploying multiple story lines, huge leaps back and forth in time and the withholding and distribution of information...Once Kimani has his plotlines all set, his writing relaxes, and it's here that you can see his raw talent...I have never read a novel about Kenya] that's so funny, so perceptive, so subversive and so sly."
--New York Times Book Review
"In his American debut, Kimani illustrates the discordant history of East Indians in Kenya through a fabulously complicated set of intriguing characters and events...Highlighted by its exquisite voice, Kimani's novel is a standout debut."
--Publishers Weekly
"Kimani's descriptive and inventive prose recounts personal stories of love and tragedy within a context of racial hierarchies and the fallout of colonial rule...Babu's story feels weighted by history in a way that will remind readers of Gabriel Garcia Marquez's work...Kimani's complex novel will leave readers questioning the meanings of citizenship and belonging during an era of significant social upheaval in Kenya's history."
--Booklist
"African colonialism is confronted in this subtle, multilayered Kenyan tale...Lyrical and powerful...Kimani weaves together a bitter, hurtful past and hopeful present in this rich tale of Kenyan history and culture, the railroad, and the men and women whose lives it profoundly affected...This is a thoughtful story about a country's imperialist past."
--Kirkus Reviews
"The characters are human, teaching us that even someone who does wrong is not all bad, and Kimani writes with such vivid detail that one can easily visualize the vast scenery. Reminiscent of Iman Verjee's Who Will Catch Us as We Fall, this novel will appeal to readers of historical and literary fiction."
--Library Journal
Set in the shadow of Kenya's independence from Great Britain, Dance of the Jakaranda reimagines the special circumstances that brought black, brown and white men together to lay the railroad that heralded the birth of the nation.
The novel traces the lives and loves of three men--preacher Richard Turnbull, the colonial administrator Ian McDonald, and Indian technician Babu Salim--whose lives intersect when they are implicated in the controversial birth of a child. Years later, when Babu's grandson Rajan--who ekes out a living by singing Babu's epic tales of the railway's construction--accidentally kisses a mysterious stranger in a dark nightclub, the encounter provides the spark to illuminate the three men's shared, murky past.
With its riveting multiracial, multicultural cast and diverse literary allusions, Dance of the Jakaranda could well be a story of globalization. Yet the novel is firmly anchored in the African oral storytelling tradition, its language a dreamy, exalted, and earthy mix that creates new thresholds of identity, providing a fresh metaphor for race in contemporary Africa.
About the Author
---
Peter Kimani is a leading African writer of his generation. Born in 1971 in Kenya, he started his career as a journalist and has published several works of fiction and poetry. He was one of only three international poets commissioned by National Public Radio to compose and present a poem to mark Barack Obama's inauguration in January 2009. Kimani earned his doctorate in Creative Writing and Literature from the University of Houston's Creative Writing Program in 2014, and is a faculty member at Aga Khan University's Graduate School of Media and Communications in Nairobi. Dance of the Jakaranda is his third novel.