Me: A Novel (Paperback)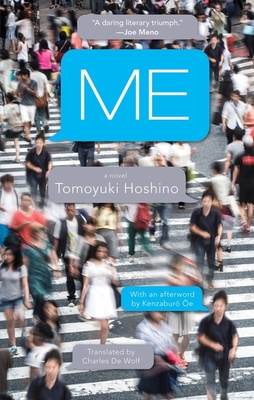 $15.95
Available from our distributor; usually Ships in 1-5 Days
Description
---
"In Hoshino's dystopia, identities are fluid and any one is as good as another. . .Hoshino's ambitious novel is pleasingly uncomfortable."
--
Publishers Weekly
"Hoshino's latest-in-translation (rendered by De Wolf) begins as black comedy and devolves into an antisolipsistic treatise on the impossibility of individual identity."
--Booklist Online
"Part existential fable, part 'Night of the Living Dead, ' Mr. Hoshino's inventive novel, accessibly translated by Charles De Wolf, paints a nightmare vision of Japan's rootless millennials, who work grinding dead-end jobs that leave them little time for family or individual passions...At first Hitoshi and his fellow MEs are happy to band together against an uncaring world. But the camaraderie doesn't last, since every time one reveals a character flaw the others take it as an indictment of themselves. As the MEs' failures and weaknesses become intolerably magnified onto the 'living but useless rabble' they're gripped by a suicidal impulse that unleashes a crazed murder spree. The frenetic, knife-wielding finale reaches its climax in--a McDonald's, of course. None of them can think of any place else to eat."
--Wall Street Journal, included in Best New Fiction column
"The imaginative story of a rather unimaginative camera salesman, ME features Hitoshi Nagano; his troubles begin with his impulsive theft of a cell phone from another customer at a McDonalds. They end with a post-apocalyptic future for everyone in Japan."
--New York Journal of Books
" Some passages] surpass even Kobo Abe. . .The author has leaped to a higher level."
--Kenzaburo Oe, Nobel Prize-winning author of The Silent Cry, from the afterword
With an afterword by Kenzaburō Ōe. Translated from Japanese by Charles De Wolf.
This novel centers on the "It's me" telephone scam--often targeting the elderly--that has escalated in Japan in recent years. Typically, the caller identifies himself only by saying, "Hey, it's me," and goes on to claim in great distress that he's been in an accident or lost some money with which he was entrusted at work, etc., and needs funds wired to his account right away.
ME's narrator is a nondescript young Tokyoite named Hitoshi Nagano who, on a whim, takes home a cell phone that a young man named Daiki Hiyama accidentally put on Hitoshi's tray at McDonald's. Hitoshi uses the phone to call Daiki's mother, pretending he is Daiki, and convinces her to wire him 900,000 yen.
Three days later, Hitoshi returns home from work to discover Daiki's mother there in his apartment, and she seems to truly believe Hitoshi is her son. Even more bizarre, Hitoshi discovers his own parents now treat him as a stranger; they, too, have a "me" living with them as Hitoshi. At a loss for what else to do, Hitoshi begins living as Daiki, and no one seems to bat an eye.
In a brilliant probing of identity, and employing a highly original style that subverts standard narrative forms, Tomoyuki Hoshino elevates what might have been a commonplace crime story to an occasion for philosophical reflection. In the process, he offers profound insights into the state of contemporary Japanese society.
Charles De Wolf, PhD, professor emeritus, Keio University, is a linguist by training, though his first love was literature. Multilingual, he has spent most of his life in East Asia and is a citizen of Japan. His translations include Mandarins, a selection of short stories by Ryunosuke Akutagawa (Archipelago Books) and collections of folktales from Konjaku Monogatari-shu. He has written extensively about The Tale of Genji; and is currently working on his own translation of the work.
About the Author
---
Tomoyuki Hoshino was born in 1965 in Los Angeles, but moved to Japan when he was two. He made his debut as a writer in 1997 with the novella The Last Gasp, which won the Bungei Prize. His novel The Mermaid Sings Wake Up won the Mishima Yukio Prize, and Fantasista was awarded the Noma Literary New Face Prize. His other novels include Lonely Hearts Killer and The Tale of Rainbow and Chloe. ME is his latest novel. Kenzaburo Oe is considered one of the most dynamic and revolutionary writers to have emerged in Japan since World War II, and is acknowledged as the first truly modern Japanese writer. He is known for his powerful accounts of the atomic bombings of Hiroshima and his struggle to come to terms with a mentally handicapped son. His prolific body of work has won almost every major international honor, including the 1989 Prix Europalia and the 1994 Nobel Prize for Literature. His many translated works include A Personal Matter (1964), Teach Us to Outgrow Our Madness (1969), The Silent Cry (1967), Hiroshima Notes (1965), and Nip the Buds, Shoot the Kids (1958).