The Anger Meridian (Paperback)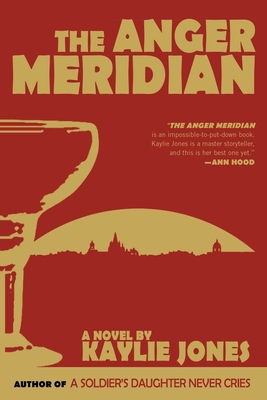 Description
---
"Kaylie Jones's striking novel...quivers with tension from the opening page... A] lovely, finely plotted novel, which highlights colorful San Miguel and the complexities of family, loyalty and honesty. The Anger Meridian is at once a suspenseful mystery and a superlatively gripping story of self-discovery."
--Shelf Awareness, Starred review "Jones...has written a compulsively readable novel about a woman who manages to come into her own. With engaging characters, a compelling story, and a seductive sense of place, this is a literary treat."
--Booklist "Jones creates a seething portrait of a narcissistic mother in this story of an adult daughter's attempt to reconcile the appearance of her prosperous and successful family with the harsh reality of a life built on a series of lies....Jones keeps the action churning...but perhaps the novel's greatest feat is Bibi, an all-too-real toxic monster of a mother."
--Publishers Weekly "A fast-paced story of a woman who only stops lying to others once she stops lying to herself."
--Kirkus Reviews "The plot twists in this latest from Jones are intriguing....For readers looking for a lightweight novel for the beach...this book is the prescription."
--Library Journal "The Anger Meridian opens with high drama...The novel...maintains a lovely sense of place and character. There is a psychological depth to the story, especially in regards to a keen focus on mother and daughter relationships. Underlying this is a compelling mystery and a sense of tension that will keep readers moving fast through the story."
--KQED, "Beach Reads for Rebels: 5 Alternatives to the Average Summer Thriller" "There's more to the story at every level here, however, and that is the brilliance of Kaylie Jones's writing....This fascinating novel bases its mystery not so much on unfolding events, although these are well paced, but instead on how a person can live a life parallel to the truth, based on an ever-shifting set of lies and misrepresentations. There's real danger is remaking the truth to avoid conflict, and that is never more apparent than in this well crafted book."
--Reviewing the Evidence "Must-read....Intriguing characters, complex twists, and a definite page turner."
--Chicago Now, Top 5 Books of 2015 Merryn Huntley is rudely awakened to the many bad decisions she has made in her life when she is told by two Dallas police officers that her wealthy husband Beau has been killed in a car accident, along with a local waitress. Merryn's first instinct is to flee in order to protect her nine-year-old daughter, and the only place that feels safe enough is her mother's beautiful, isolated home in San Miguel de Allende, Mexico. Merryn's mother, the redoubtable Bibi, always said to her as a child, When you tell a lie, make sure you keep it as close to the truth as possible, because it will be easier to remember. Ironically, from the moment Merryn arrives, she is forced into twisting the truth--about how much she knew of her husband and his shady business affairs; about her own secret lovers; and most importantly, that she is beginning to doubt the one person who has always been the greatest influence in her life: her mother. The situation worsens when two FBI agents show up and begin to ask Merryn questions about her husband's business, which only intensifies her need to continue lying. While Merryn's perfect life begins to crumble around her, she must decide whether or not she can face the most painful reality of all--that she has been lying to herself her entire life.

About the Author
---
Kaylie Jones has published six books, the most recent a memoir, Lies My Mother Never Told Me. Her novel A Soldier's Daughter Never Cries was adapted as a Merchant Ivory film in 1998. Jones has been teaching for more than twenty-five years, and is a faculty member in the Stony Brook Southampton MFA in Creative Writing & Literature program and in Wilkes University's MFA in Creative Writing program. She is the author of Speak Now and the editor of Long Island Noir. Her newest endeavor is her publishing imprint with Akashic Books, Kaylie Jones Books.