Inside Madeleine (Paperback)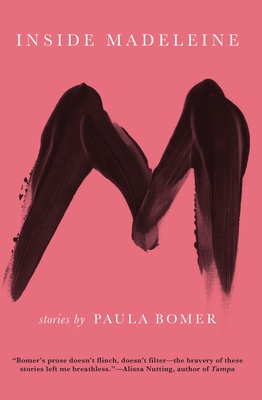 This item is currently unavailable and can not be ordered.
Description
---
"With surgical insight, Inside Madeline delves into the most complex female territory imaginable and dissects until every honest bone is revealed. Bomer's prose doesn't flinch, doesn't filter—the bravery of these stories left me breathless."
—Alissa Nutting, author of Tampa

From the author of Nine Months and Baby comes a daring new collection that seethes with alienation, lust and rage. Bomer takes us from hospitals, halfway houses, and alleyways, to boarding schools and Park Avenue penthouses, exploring the complex relationships girls have with their bodies, with other girls, and with boys. The title novella tracks the ins and outs of an outsider's life: her childhood obesity and kinky sex life, her toxic relationships, whether familial or erotic, and her various disappearing acts, of body and mind.
About the Author
---
Paula Bomer is the author of a novel, Nine Months (Soho Press), and a story collection, Baby (Word Riot Press). Her writing has appeared in The Mississippi Review, Open City, Fiction, Nerve, and Best American Erotica. She is the publisher of Sententia Books and a contributor to the literary blog, Big Other. She lives in Brooklyn with her husband and two children.
Praise For…
---
Praise for Inside Madeleine

Entropy Magazine Best Fiction of 2014
A Flavorwire Best Book of 2014

"Bomer offers her characters no outs—only the creeping sense that they're doomed to swing forever between futile attempts at self-determination."
—The New York Times Book Review

"Haunting, defiant."
—Milwaukee Journal Sentinel

"Bomer's book will be talked about because she writes with such honesty about sex, but it is in matters of the soul she is most honest. These are women laid bare. Bomer dares us to look."
—The Rumpus

"Bomer's collection runs the entire spectrum from hilarious to heartbreaking, challenging to downright raw. Yet the one most important constant is that she never stops being brilliant throughout the entire thing."
—Vol. 1 Brooklyn

"It might be best to imagine Bomer's characters as moths endlessly flying toward the flickering blue neon light of a bug-zapper. Desire inevitably leads to futility."
—Tweed's Magazine

"Alluring in its rawness."
—Huffington Post

"Paula Bomer is one of those rare writers who can fit us snugly into the skin of a character within the confines of a short story. Whether it feels sickly or claustrophobic in that skin, it's never too much to make you not want to keep turning the pages."
—Brooklyn Based

"I loved Paula Bomer's Inside Madeline—perhaps more than its predecessor, Mary Gaitskill's Bad Behavior—because what Bomer nails isn't the raw real courage—it's the quiet staring, the lip-chewing looks by which girls devour each other."
—American Microreviews & Interviews

"Paula Bomer's new short story collection should come with a warning label: not for the timid or easily shocked . . . If you're looking for an unconventional summer read that is both brutally funny and powerfully emotional, don't miss this book."
—The Brooklyn Daily

"Dynamite and obscene... Inside Madeleine is an honest and urgent collections."
—Review of Contemporary Fiction

"The stories are often brutal, disappointment being the mildest outcome, with Bomer capturing her characters' anger and helplessness in a graphic and gritty style. For readers who enjoy their short fiction explicit and tough."
—Library Journal

"[The title story] "Inside Madeleine" is the heartbreaking—and erotic—description of the destruction caused when the only man who sees her realistically leaves a vulnerable woman."
—Booklist

"[The atmosphere of Inside Madeleine] lends Bomer's female protagonists an interesting reversal—they're just as full of lust and bewilderment and bad choices as the boys they orbit, but their self-awareness lends an ache that escapes many writers."
—Kirkus Reviews

"Raw and urgent . . . Bomer does not hesitate to talk about sex, violence, the perversions we hide inside, or the forgiveness and acceptance we desire. Never for the faint of heart or weak-minded."
—BuzzFeed Books

"Bomer's skill at getting inside the heads of unpredictable characters never fails to impress, and this new collection looks to offer more windows into complex lives."
—Electric Literature/The Outlet

"With surgical insight, Inside Madeleine delves into the most complex female territory imaginable and dissects until every honest bone is revealed. Bomer's prose doesn't flinch, doesn't filter—the bravery of these stories left me breathless."
—Alissa Nutting, author of Tampa

"The stories in Paula Bomer's Inside Madeleine are many things—funny, horny, sad, smart—but what makes them exemplary is Bomer's utmost fearlessness in confronting both the betrayals of the human body, and the irreparable loneliness of living inside of one. Whether we're at a South Bend skating rink or CBGB's, a halfway house or an anorexia ward, the humanity of Bomer's characters is on hi-def display, allowing readers an intimate glimpse at what goes on in another person's skin, and providing no holds barred illumination on such subjects as the uncontrollability of desire and the futility of discipline in the face of nature's unfairness. This book is not for the faint of heart. Rather, it's for the Reader who wants something courageously real: sweaty, bloody, beautiful."
—Adam Wilson, author of Flatscreen

"The stories in Paula Bomer's Inside Madeleine take your hand, tell you a secret, and then burp in your face, giggling. They are honest, playful, and cagey, and the very title of the collection suggests these tonal complexities."
—HTMLGIANT

"These stories, these girls, will stick with me for a long time... even if I want to forget them."
—LitReactor

Praise for Bomer's collection Baby & Other Stories:

"Reading Baby & Other Stories is like being attacked by a rabid dog—and feeling grateful for it. This is some of the rawest and most urgent writing I can remember encountering."—Jonathan Franzen, author of The Corrections

"Dysfunctional doesn't begin to describe the marriages in this brilliant, brutally raw debut collection."
—O Magazine

"In 10 raw and angry stories, Bomer flays the idea of happy little families.... This lacerating take on marriage and motherhood is not one to share with the Mommy and Me group."
—Publishers Weekly, Starred Review

"If Bomer's harsh portrayal of modern parenting and marriage were water, it would be transparent, unflecked, jagged ice.... She lands firmly between Mary Gaitskill's articulate, unflinching anhedonia and Kathy Acker.... Amy Hempel with a twist of Grace Paley. Baby is punk rock for the roundly domesticated."
—Bookforum

Praise for Nine Months:

"Deliciously, dangerously rogue."—Marcy Dermansky, author of Bad Marie

"Paula Bomer's Nine Months is a daring look at motherhood, exploring the thoughts most women keep secret.... A page-turner that will tie your stomach in knots and stir up one hell of a debate."
—Susan Henderson, author of Up From the Blue

"This is a brave and provocative book about the insidious power of PC. That's Parental Correctness, not Political Correctness... [Bomer's] wounding analysis of herself and the vicious new mummy tribes she introduces us to make this book an instant classic."
—The Guardian

"A raw, darkly funny, at times appalling page-turner.... Mommy lit lovers will be horrified, but Bomer's debut novel will resonate with fans of quirky, character-driven fiction in the vein of Richard Russo, John Updike, and Tiffany Baker."—Library Journal

"After reading this powerful, entertaining novel, and Bomer's excellent collection of stories, I'm convinced. Anything she writes, I want it."—PANK