The Fifth Beatle: The Brian Epstein Story (Hardcover)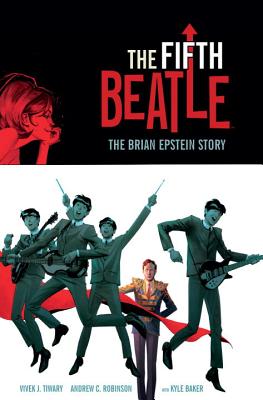 This item is currently unavailable and can not be ordered.
Description
---
The Fifth Beatle is the untold true story of Brian Epstein, the visionary manager who discovered and guided The Beatles-from their gigs in a tiny cellar in Liverpool to unprecedented international stardom. Yet more than merely the story of "The Man Who Made The Beatles," The Fifth Beatle is an uplifting, tragic, and ultimately inspirational human story about the struggle to overcome seemingly insurmountable odds. Brian himself died painfully lonely at the young age of thirty-two, having helped The Beatles prove through "Sergeant Pepper's Lonely Hearts Club Band" that pop music could be an inspirational art form. He was homosexual when it was a felony to be so in the United Kingdom, Jewish at a time of anti-Semitism, and from Liverpool when it was considered just a dingy port town.
About the Author
---
Vivek J. Tiwary is a #1 New York Times bestselling author, a Tony Award-winning Broadway producer, and the founder of Tiwary Entertainment Group. Vivek's graphic novel The Fifth Beatle: The Brian Epstein Story, based on the untold life story of Beatles' manager Brian Epstein, received worldwide critical acclaim and won prestigious literary awards including, Will Eisner Award for Best Reality-Based Work and Two Harvey Awards (including Best Original Graphic Novel). It is a Lambda Literary Finalist for Best LGBT Graphic Novel, an American Library Association Great Graphic Novel for Teens, and has been added to the Rock and Roll Hall of Fame Library and Archives Permanent Collection. The Fifth Beatle is now being adapted into a feature film that has secured unprecedented access to Beatles music and is on-track to shoot in 2015. Vivek is writing its screenplay and will serve as a producer. On Broadway, Vivek's productions have won a combined 25 Tony Awards over 44 Tony nominations--every single one of his shows has been decorated.