Algren: A Life (Hardcover)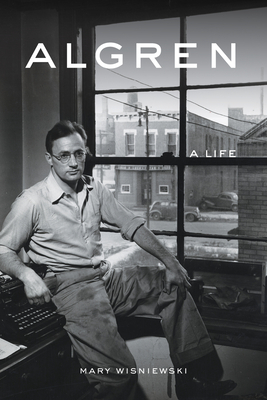 Description
---
Chicago Writers Association Nonfiction Book of the Year (2017)
Society of Midland Authors Literary Award in Biography (2017)

A tireless champion of the downtrodden, Nelson Algren, one of the most celebrated writers of the 20th century, lived an outsider's life himself. He spent a month in prison as a young man for the theft of a typewriter; his involvement in Marxist groups earned him a lengthy FBI dossier; and he spent much of his life palling around with the sorts of drug addicts, prostitutes, and poor laborers who inspired and populated his novels and short stories.

Most today know Algren as the radical, womanizing writer of The Man with the Golden Arm, which won the first National Book Award, in 1950, but award-winning reporter Mary Wisniewski offers a deeper portrait. Starting with his childhood in the City of Big Shoulders, Algren sheds new light on the writer's most momentous periods, from his on-again-off-again work for the WPA to his stint as an uninspired soldier in World War II to his long-distance affair with his most famous lover, Simone de Beauvoir, to the sense of community and acceptance Algren found in the artist colony of Sag Harbor before his death in 1981.

Wisniewski interviewed dozens of Algren's closest friends and inner circle, including photographer Art Shay and author and historian Studs Terkel, and tracked down much of his unpublished writing and correspondence. She unearths new details about the writer's life, work, personality, and habits and reveals a funny, sensitive, and romantic but sometimes exasperating, insecure, and self-destructive artist. biography
The first new biography of Algren in over 25 years, this fresh look at the man whose unique style and compassionate message enchanted readers and fellow writers and whose boyish charm seduced many women is indispensable to anyone interested in 20-century American literature and history.
About the Author
---
Mary Wisniewski
is a reporter at the
Chicago Tribune
and former Reuters investigative reporter covering Midwest crime and politics. Previously a columnist for the 
Chicago Sun-Times
 and a reporter for 
Chicago Lawyer
, Wisniewski has won numerous awards for reporting and has taught creative writing and published literary reviews. She is an active participant in the Nelson Algren Committee, past president of the Chicago Headline Club, and appears frequently on local television and radio.
Praise For…
---
"Mary Wisniewski has written a captivating biography of Nelson Algren, rife with the soul, passion, and grit that made Chicago a 'city on the make' and Algren its greatest poet. For those who have loved the town and the writer who made it his 'trade,' here, at last, is the book you've waited for." —Warren Leming, cofounder, Nelson Algren Committee of Chicago
 
"It's good to have the irascible, bohemian chronicler of the streets back via this top-notch biography." —Kirkus Reviews
"Mary Wisniewski's Algren: A Life is an immensely readable portrait of the great but problematic Chicago writer. Exquisitely reported, sympathetic but clear-eyed, it's about the most complete account of his life and work I've seen. Wisniewski has a great sense of detail, and a wonderfully candid voice." —Achy Obejas, author of Days of Awe
"Nelson Algren was surely one of the most important post-World War II novelists in America, and his life and work are even more relevant today than they were in the 1940s and '50s, when he was at the peak of his popularity. . . . This new biography goes a long way toward redeeming both his life and his art. His novels and stories should be required reading in every American college syllabus. This excellent biography tells us why." —Russell Banks, author of Rule of the Bone and Cloudsplitter
"We also learn how, as tough as he famously was, Algren was vulnerable to the same sensitivities and bouts of self-doubt that plague all writers. He was always one of us. Post-Wisniewski, he may be even more so." —Chicago Tribune
"Algren is a welcome addition to the literature on Nelson Algren's life and work. In fact the strength of Algren is the way that Wisniewski integrates Algren's working life with his personal life. This thankfully is not yet another biography of a writer that ignores the writing." —Stuart Dybek, author of The Coast of Chicago
"A powerful piece of biography." —Houston Press
"With this comprehensive biography, Wisniewski, award-winning journalist for the Chicago Tribune, has done sterling work toward restoring Nelson Algren … to his position of prominence as a celebrated author." —Publishers Weekly
"Wisniewski reintroduces with fresh insight this signature American writer." —Booklist
"[A] splendid biography..." —Logos Journal