The Narrative of Arthur Gordon Pym of Nantucket (The Art of the Novella) (Paperback)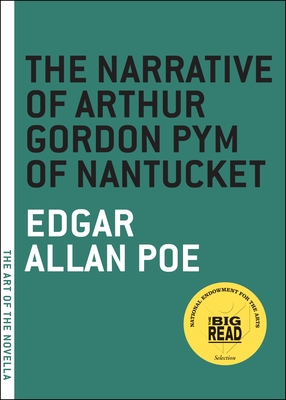 This item is currently unavailable and can not be ordered.
Description
---
When Edgar Allan Poe's only novella was first published in 1838, the reviews were slow in coming and dismissive when they arrived. The book's failure left Poe in such dire financial straits that he even accepted a job at one of the magazines that had panned it. But The Narrative of Arthur Gordon Pym of Nantucket has since become one of his most influential works: Baudelaire translated it, Paul Theroux read it out loud to Jorge Luis Borges, Jules Verne wrote a sequel to it, H. P. Lovecraft drew on it in creating his own tales of the Antarctic . . .

Ostensibly, it's a classic adventure story about a young boy who runs away to sea and encounters all the classic scenarios: mutinies, storms, shipwrecks, ravenous sharks, hostile natives. And Poe drew on many contemporary accounts of exploration in the South Seas to give his story a sense of verisimilitude.

But there are far deeper currents at work in the book than mere adventure: elements of the supernatural as they near the South Pole, evocations of the protagonists' experiences at sea that rival Poe's best tales of horror, and a disturbing ending that continues to stir debate.
About the Author
---
EDGAR ALLAN POE was born the son of itinerant actors in Boston, Massachusetts, in 1809. A year after his birth, his father abandoned the family, and his mother died of tuberculosis. Poe was taken into foster care by John Allan, a successful merchant in Richmond, Virginia. He attended the University of Virginia for a year, but left after running up severe gambling debts, which led to an estrangement from his foster family. In 1827, while a private in the U.S. Army, he published his first book of poetry, Tamerlane and Other Poems. After his discharge, he pursued a literary career and found editorial jobs at a series of periodicals, including the Southern Literary Messenger, which serialized The Narrative of Arthur Gordon Pym of Nantucket. He became well-known as a scathing critic, and his reviews earned him the epithet "Tomahawk Man." In 1835, Poe secretly married his cousin Virginia Clemm, but despite nonstop writing—criticism, poetry, short stories, and experimentation with fictional genres, including the detective novel, which he virtually invented with the publication of "The Murders in the Rue Morgue" (1841)—he received scant recognition for his efforts until the publication of "The Raven" in 1845. The poem's instant popularity gave him new visibility in literary circles, but his personal situation remained plagued by poverty and drink, and the illness and ultimate death of Virginia in 1847. In 1849, he was found semiconscious outside a Baltimore tavern. Taken to the hospital, he lingered for four days but never recovered. On October 7, Poe died at the age of forty.