Coco Cake Land: Cute and Pretty Party Cakes to Bake and Decorate (Hardcover)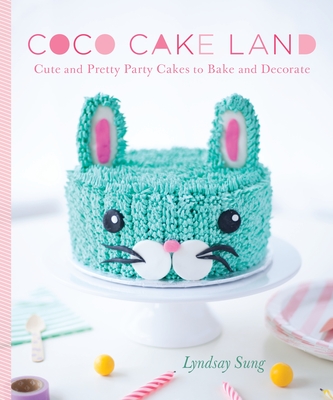 $24.95
Available from our distributor; usually Ships in 1-5 Days
Description
---
Create your very own cute and crafty party cakes--cake decorating designs from Lyndsay Sung, creator of Coco Cake Land.

Make the cutest cakes in town with Coco Cake Land! With a colorful, vintage-meets-modern aesthetic that is inspired by kawaii cute, the thirty cake decorating projects in this book offer a fun and playful approach to making cakes that even novice decorators will be able to approach. The cakes in Coco Cake Land fall into two styles: the super cute and the pretty. You'll find blue bears, pink cats, pandas, and foxes, along with buttercream rosettes, drippy ganache, and rainbow layers. With base recipes for cakes and frostings, tutorials on decorative piping and creating fondant features, as well as instructions for crafty finishes like washi tape flags and paper toppers, this book has everything you need to create colorful, cute, and completely unique cakes.
About the Author
---
LYNDSAY SUNG is the self-taught baker, blogger, and mama behind the blog Coco Cake Land (cococakeland.com), a site filled with colorful cakes, vibrant photography, and plenty of jokes. Lyndsay lives and works in Vancouver, British Columbia, with her husband, Rich, and her sweet son, Teddy.
Praise For…
---
"This book is filled with the same sugar-coated magic as Lyndsay's eponymous blog, which means it's a delightful combination of cute and pretty. I especially love how she manages to convey a sense of humor with offerings like her Burger Cake and Cactus Guy Cake. Inside you'll find plenty of step-by-step pictures and instructions that are concise with no detail left to chance. What else can I say? I want to make it all! "--Heather Baird, author of Sprinkle Bakes

"I've been a long-time fan of Lyndsay's work. She has an ability to make cakes that are lighthearted and whimsical, yet stunning all at the same time. This book makes me feel like I'm stepping into her magical cake world and empowers me to create one of her pieces for my own celebrations as well!"—Joy Cho, Founder and Creative Director of Oh Joy!

"Prepare to squeal with delight!! Coco Cake Land showcases Lyndsay's amazing ability to weave together approachable straightforward decorating techniques to make some of the most whimsical and lovable cakes imaginable. This is a wildly fun book for cake makers of all levels!"—Molly Yeh, blogger and author of Molly on the Range

"Coco Cake Land is a whimsical and original cookbook that stands out from all other baking cookbooks out right now. I just love Lyndsay's fun yet accessible approach to baking. She gets that stepping into the kitchen should be an amusing adventure filled with joy, laughter, and great treats! If I'm heading to a party, I'm definitely picking a cake from this wonderful book to bake."—Jocelyn Delk Adams, author of Grandbaby Cakes

"Coco Cake Land is full of the sweetest and cutest cakes! Lyndsay gives you the techniques, recipes, and inspiration to create your own magical world of cakes."—Jonathan + Rachel Faucett, creators of Handmade Charlotte 

A great guide for beginners and a fun collection of new ideas for seasoned pros, Coco Cake Land is a gorgeous, easy-to-use cookbook that will make even the most inexperienced baker feel inspired to pick up a piping bag and give it a try."—Bustle

"Lyndsay Sung's colorful cakes are vibrant works of art and her cookbook Coco Cake Land, which shares its name with her blog and Instagram, shows you exactly how to (attempt to) achieve her levels of baking wizardry."—Teen Vogue