Baba Dunja's Last Love (Paperback)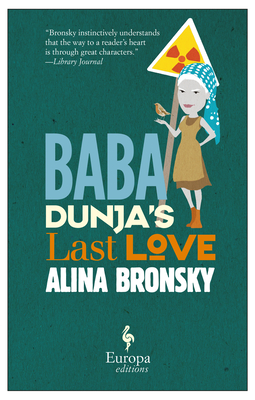 This item is currently unavailable and can not be ordered.
Description
---
Government warnings about radiation levels in her hometown (a stone's throw from Chernobyl) be damned! Baba Dunja is going home. And she's taking a motley bunch of her former neighbors with her. With strangely misshapen forest fruits to spare and the town largely to themselves, they have pretty much everything they need and they plan to start anew.
 
The terminally ill Petrov passes the time reading love poems in his hammock; Marja takes up with the almost 100-year-old Sidorow; Baba Dunja whiles away her days writing letters to her daughter. Life is beautiful. That is until one day a stranger turns up in the village and once again the little idyllic settlement faces annihilation.
 
From the prodigiously talented Alina Bronsky, this is a return to the iron-willed and infuriatingly misguided older female protagonist that she made famous with her unforgettable Russian matriarch, Rosa Achmetowna, in The Hottest Dishes of the Tartar Cuisine. Here she tells the story of a post-meltdown settlement, and of an unusual woman, Baba Dunja, who, late in life, finds her version of paradise.
About the Author
---
Russian-born Alina Bronksy is the author of Broken Glass Park (Europa, 2010); The Hottest Dishes of the Tartar Cuisine (Europa, 2011), named a Best Book of 2011 by The Wall Street Journal, The Huffington Post, and Publisher's Weekly; and Just Call Me Superhero (Europa, 2014).
Praise For…
---
Praise for Baba Dunja's Last Love

"Through Tim Mohr's succinct translation, Bronsky has written an enthralling story of humor, tragedy, and triumph that takes the reader deeper into Baba Dunja's psyche, where we see how everyone has their own idea of paradise, and for some, perhaps paradise is what's familiar and not necessarily what's idyllic."
—World Literature Today

"With quiet understatement, Bronsky offers us a glimpse of life in the radioactive abyss."
—Kirkus Reviews


Praise for Alina Bronsky
 
"Alina Bronsky writes with a gritty authenticity and unputdownable propulsion."
—Vogue
 
"Bronsky instinctively understands that the way to a reader's heart is through great characters."
—Library Journal
 
"Bronsky's great gift is humor."
—The Los Angeles Times

 
Praise for Broken Glass Park
 
"What a literary creation! No wonder this book was such a sensation in Europe."
—Shelf Awareness
 
"A riveting debut."
—Publishers Weekly (Starred Review)
 
"A sharp and funny first novel."
—The Minneapolis Star Tribune

 
Praise for The Hottest Dishes of the Tartar Cuisine
 
"Mordantly funny."
—The San Francisco Chronicle
 
"A masterful study in delusion."
—The Financial Times
 
"[Rosa is] one of the most fascinating women in the world."
—The Millions
 
"What begins as a cruel comic romp ends as a surprisingly winning story of hardship and resilience."
—The New Yorker