Belches, Burps, and Farts-Oh My! (Hardcover)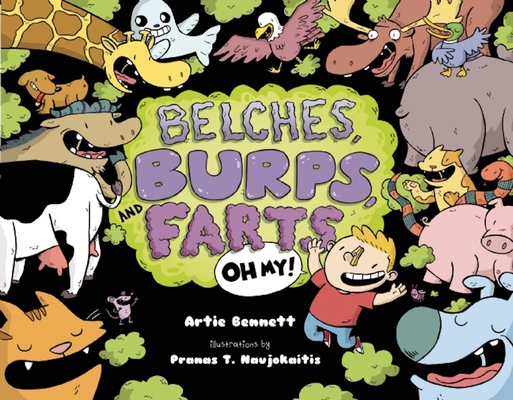 This item is currently unavailable and can not be ordered.
Description
---
He's beheld the butt and offered the scoop on poop. Now Artie Bennett takes young readers on a discovery of those little (and not so little) puffs that exit from our mouths and duffs--the burp, the belch, and the fart With Bennett's signature combination of real science and zany rhyme, kids will learn the how, why, and where of gas-tastic eruptions made by people and animals, such as: - why we can't burp while on our backs
- which animals can't "cut the cheese"
- how fish communicate via burp bubbles
- why soda and burps go together
- who farts more--boys or girls Capped off with a spread on "Fart-tastic Facts & Burp-tacular Bits," this amazing, amusing mix of humor and nonfiction is an ideal draw for reluctant readers, classroom units on body science--and kids who just think burps and farts are funny Given visual gas-pression via Pranas T. Naujokaitis's exuberant cartoon-style illustrations,
look for this to be a hit with both kids and educators. For as Mr. Bennett puts it: Cows and pigs, crude or classy, Kids, grown-ups, we're all . . . GASSY
About the Author
---
Artie Bennett: Brooklyn native Artie Bennett employed his signature goofy-meets-smart style to craft this hilarious ode to the burp, the belch, and that popular "Bronx cheer", the fart. A former professional crossword puzzle prodigy, Artie Bennett is now making a name for himself writing smart and funny books about subject matter that kids love to read about, and enhancing Brooklyn's reputation for producing an uncommonly high per capita of humorists. In his M-F life, Mr. Bennett is an executive copy editor at a major children's book publisher. In his spare time, he collects words. Pranas Naujokaitis: Pranas T. Naujokaitis is always a cartoonist, sometimes in a band, and often on the verge of something big. He tends to wonder where he's going and where he came from. Maybe this is why his three awesome Balloon Toons books feature quests--you gotta have some sense of where you're headed on a quest. He is delighted his creative sojourn led to the opportunity to create the illustrations for this book, whose subject matter is so near and dear to his heart (and other anatomical places).