Hexed: The Harlot & the Thief Vol. 1 (Paperback)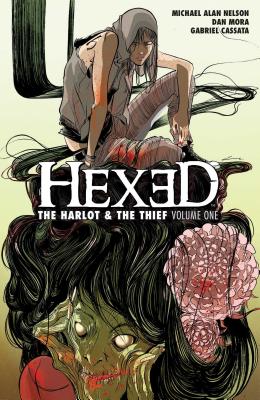 This item is currently unavailable and can not be ordered.
Description
---
Luci Jennifer Inacio Das Neves (most people just call her "Lucifer") is a supernatural thief- for- hire, stealing wondrous objects from the dark denizens of the netherworld for her mentor/mother figure, Val Brisendine. But when Lucifer accidentally unleashes a terrible evil from one of the paintings hanging in Val's art gallery, will any of the tricks up her sleeve be enough to stop it? A mashup of Lara Croft and Buffy the Vampire Slayer, Hexed volume 1 marks the ongoing series debut for the character that launched PRETTY DEADLY Artist Emma Rios' career in 2008. Rios returns to provide the cover for this volume, while newcomer Dan Mora brings a lyrical and unique take to the artwork, paired with the script from one of comics' leading horror writers, Michael Alan Nelson (DAY MEN, 28 DAYS LATER, DINGO).
About the Author
---
Michael Alan Nelson was born in Portage, Indiana and grew up in a small farming community before moving to Los Angeles in 2002. He is the winner of the 2004 New Times 55 Fiction contest for his short-short "The Conspirators" and was awarded the 2011 Glyph Comics Award for Best Female Character for the character Selena from his series "28 Days Later." Michael is the author of the critically acclaimed comic series "Hexed," "Dingo," and "Fall of Cthulhu."