The Impulse Society: America in the Age of Instant Gratification (Hardcover)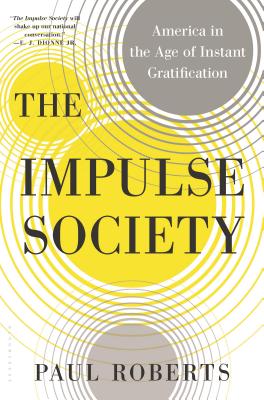 This item is currently unavailable and can not be ordered.
Description
---
Paul Roberts' galvanizing, sweeping social critique of our Impulse Society confronts a world where business shamelessly seeks the fastest reward, regardless of the long-term social costs; where political leaders reflexively choose short-term fixes over broad, sustainable social progress; where individuals feel increasingly exploited by a marketplace obsessed with our private cravings but oblivious to our spiritual well-being or the larger needs of our families and communities. How did the pursuit of short-term self-gratification, once scorned as a sign of personal weakness, became the default principle not only for individuals but for all sectors of our society? Drawing on the latest research in economics, psychology, political philosophy, and business management, Roberts shows how a potent combination of rapidly advancing technologies, corrupted ideologies, and bottom-line business ethics has pushed us across a threshold to an unprecedented state: a virtual merging of the market and the self. And yet, even as our dilemma grows, The Impulse Society finds hopeful signs-not least, a revolt among everyday Americans against the forces of an unchecked market. Inspired by their example, Roberts outlines a way back to a world of real and lasting good.
About the Author
---
Paul Roberts is the author of The End of Oil and The End of Food. His writing has appeared in the Los Angeles Times, the Washington Post, the New Republic, Newsweek, Rolling Stone, and elsewhere. He was a finalist for a National Magazine Award in 1999 and the New York Public Library Helen Bernstein Book Award in 2005. Roberts appears regularly on TV and radio. He lives in Washington State.
Praise For…
---
"[A] brilliant and thought-provoking new work, which is sure to become one of the most talked about books of the year… Roberts glides easily from one topic to next, each more fascinating than the previous example. His explanations of complex topics are nuanced, yet simple to grasp…The Impulse Society is immensely satisfying to read. Like an antidote to the title of his book, Roberts' words bring gratification over time and a long and well-developed argument." —Seattle Times
"The Impulse Society is a feisty read and full of energy." —Financial Times
"The Impulse Society will shake up our national conversation the way Christopher Lasch's The Culture of Narcissism did four decades ago. Paul Roberts challenges people of all political views to ask: What happens when instant gratification goes from being a bad personal habit to becoming the driving force in our political and economic life? It's not pretty, and Roberts is calling us back from the brink." —E.J. Dionne, author of Our Divided Political Heart
"Paul Roberts takes the time to reveal how the values and tempo of the marketplace have overtaken those of real life. The Impulse Society is both an apt description of our predicament and a welcome invitation to assert our humanity again." —Douglas Rushkoff, author of Present Shock
"The Impulse Society is a book that taps into a sense that we're all adrift -- and finds that technological, economic, and social change has caused us to lose the community that had anchored us. A society that tries to give (and sell) each of us everything we want, Roberts writes, is a society nobody wants. Roberts harkens back to the greatest critics of American individualism--Tocqueville, Dewey, Nisbet, Lasch, Putnam--and finds a call for community as urgent as ever." —Evan Soltas, economics columnist for Bloomberg View
"Paul Roberts traces the country's many, disparate ills to the same source: as a nation, we've abandoned the common good. His analysis is smart, provocative, and timely. The Impulse Society compels us to reexamine what it is that we really want." —Elizabeth Kolbert, author of The Sixth Extinction
"In a brilliant feat of analytic journalism, Roberts shows how American judgment has skewed sharply toward the short-term in everything from political outlook to consumer choices--with devastating consequences for families, communities, and even a sense of national purpose. Delayed gratification was once thought of as a quintessential mark of maturity--for societies as much as for individuals. It is a value we need to rediscover--and in this instance, without delay." —Cullen Murphy, author of Are We Rome?, Editor-at-Large, Vanity Fair
"Paul Roberts has written eloquently on very big topics before--but maybe never quite as eloquently, on quite as central a predicament. I guarantee this will jog your thinking, and perhaps put you on a new path." —Bill McKibben, author Wandering Home
"Roberts breaks out of the conventional wisdom about the failure of our leaders to rise above partisan bickering. Instead, he offers a much fresher but no less damning indictment: American politics has become a 'product' to be bought and sold, a way to satisfy immediate partisan or financial impulses rather than a route to collective problem-solving. With money in politics mattering more and more, politics has become a spectator sport for most citizens while policies increasingly get sold to the highest bidder --when, that is, our dysfunctional system can even produce policies. Agree or disagree, you will be challenged, informed, and provoked." —Jacob S. Hacker, Ph.D., Professor of Political Science, Yale University, and co-author, Winner-Take-All Politics
"We continue to fracture in every conceivable way: economically, politically, culturally, even within our own individual psyches, as what we want turns out to not to we what we need. In this provocative and original work, Paul Roberts traces how we got to this point --and then leads us to a place that isn't right, left or center, but is simply and refreshingly new, hopeful and humane." —Bill Bishop, author of The Big Sort
"Journeying through neuroscience, economics, war and healthcare, Paul Roberts gracefully connects the dots to reach an overwhelming and disturbing conclusion. While we believe we live in a society shaped by reasoned free choice, we actually live in its opposite: a culture hostage to individualized impulse. Yet, by turning the world on its edge, we may yet see it differently.The Impulse Society points the way to liberty in ways we're rarely allowed to imagine." —Raj Patel, author of The Value of Nothing
"The Impulse Society is another breakthrough. Roberts enlightens readers with holistic thinking about the interplay of economics, politics and society. This is a rare book that is passionately written, brilliantly argued, and might very well change how you behave for the better." —Parag Khanna, author of The Second World and How to Run the World
"Paul Roberts follows in the esteemed line of enlightened critics of uncontrolled capitalism in demanding that we reclaim community for runaway individualism. The market has become so good at fulfilling our impulses that we have forgotten how little it addresses our deeper needs. We now must tame it by reintroducing concerns over community to reach parity with concerns over the self. Our future cannot survive our mocking of cooperation, patience and self-sacrifice. This is one of the most balanced but trenchant criticisms of the reign of the free market." —Jeff Madrick, Editor of Challenge: The Magazine of Economic Affairs
"The Impulse Society is a wide-ranging and penetrating account of a country that has given itself over to the idea that the market always knows best. Paul Roberts provides an elegantly written diagnosis, and tells us how to reassert control over our lives, our nation and our future. Roberts' argument is impossible to dismiss on ideological grounds, and his book should be read and discussed by every American." —Robert W. McChesney, author of Digital Disconnect