Americus (Hardcover)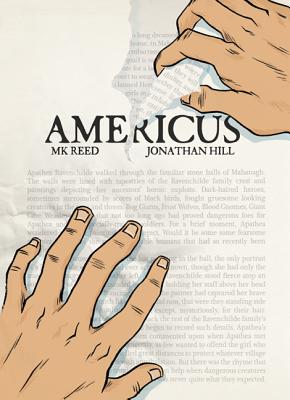 Email or call for price and availability
Description
---
Neal Barton just wants to read in peace. Unluckily for him, some local Christian activists are trying to get his favorite fantasy series banned from the Americus public library on grounds of immoral content and heresy. Something has to be done, and it looks like quiet, shy Neal is going to have to do it. With youth services librarian Charlotte Murphy at his back, Neal finds himself leading the charge to defend the mega-bestselling fantasy series that makes his life worth living.
This funny, gripping, and relatable tale of life and local politics in middle America is currently being serialized online.
About the Author
---
MK Reed is the writer of Americus, The Cute Girl Network, Palefire, and the Eisner-nominated Science Comics: Dinosaurs. She writes and draws About a Bull, a web-comic adaptation of Irish mythology. MK lives in Portland, Oregon, with her very tall husband.

Jonathan Hill is an Ignatz-nominated cartoonist who lives in Portland, Oregon, with his wife and cat. He was the artist on Americus and has had work in books from Fantagraphics, Dark Horse, and Roar. He also teaches comics in the illustration department of the Pacific Northwest College of Art.