Conquered City (Paperback)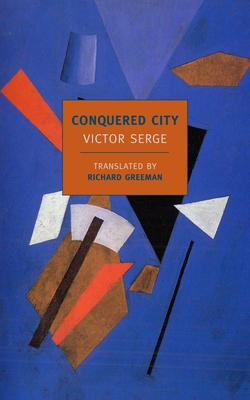 Staff Reviews
---
Narrated through the peepholes of the Russian Revolution, Serge's Conquered City is totally relentless, a crazy labyrinthine detective literary romp. Characters appear and reappear. Some characters are hungry for power; others are just really really hungry for food. Meanwhile, the Revolution is hunting these characters down, questioning them, jailing them. Sometimes these characters reappear. Serge's pen is there (Serge was there!), writing it all out, and trying to make sense of it all. Also, there is a really beautiful scene with a botanist. Incredible stuff. (Chad)
— From
ChadPrime
Narrated through the peepholes of the Russian Revolution, Serge's Conquered City is totally relentless, a crazy labyrinthine detective literary romp. Characters appear and reappear. Some characters are hungry for power; others are just really really hungry for food. Meanwhile, the Revolution is hunting these characters down, questioning them, jailing them. Sometimes these characters reappear. Serge's pen is there (Serge was there!), writing it all out, and trying to make sense of it all. Also, there is a really beautiful scene with a botanist. Incredible stuff. (Chad)
— From
Chad
Description
---
1919–1920: St. Petersburg, city of the czars, has fallen to the Revolution. Camped out in the splendid palaces of the former regime, the city's new masters seek to cement their control, even as the counterrevolutionary White Army regroups. Conquered City, Victor Serge's most unrelenting narrative, is structured like a detective story, one in which the new political regime tracks down and eliminates its enemies—the spies, speculators, and traitors hidden among the mass of common people. 

Conquered City is about terror: the Red Terror and the White Terror. But mainly about the Red, the Communists who have dared to pick up the weapons of power—police, guns, jails, spies, treachery—in the doomed gamble that by wielding them righteously, they can put an end to the need for terror, perhaps forever. Conquered City is their tragedy and testament.
About the Author
---
Victor Serge (1890–1947) was born Victor Lvovich Kibalchich to Russian anti-czarist exiles, impoverished intellectuals living "by chance" in Brussels. A precocious anarchist firebrand, young Victor was sentenced to five years in a French penitentiary in 1912. Exiled to Spain in 1917, he participated in an anarcho-syndicalist uprising before leaving for Russia to join the Revolution. Arriving in 1919, after a year in a French concentration camp, Serge joined the Bolsheviks and worked in the press services of the Communist International in Petrograd, Moscow, Berlin, and Vienna. An outspoken critic of Stalin, Serge was expelled from the Party and jailed in 1929. Released and living in Paris, he managed to publish three novels (Men in Prison, Birth of Our Power, and Conquered City) and a history (Year One of the Russian Revolution). Arrested again in Russia and deported to Central Asia in 1933, he was allowed to leave the USSR in 1936 after international protests by militants and prominent writers like André Gide and Romain Rolland. Using his insider's knowledge, Serge published a stream of impassioned, documented exposés of Stalin's Moscow show trials and machinations in Spain, which went largely unheeded. Stateless, penniless, hounded by Stalinist agents, Serge lived in precarious exile in Brussels, Paris, Vichy France, and Mexico City, where he died in 1947. His classic Memoirs of a Revolutionary and his great last novels, Unforgiving Years and The Case of Comrade Tulayev (both available as NYRB Classics), were written "for the desk drawer" and published posthumously.


Richard Greeman, the translator of four of Victor Serge's novels, has written a doctoral dissertation about Serge along with numerous other studies of his work and life. He blogs at Z-Space (www.zcommunications.org/zspace/rgreeman) and his Beware of "Vegetarian" Sharks!: Radical Rants and Internationalist Essays (Illustrated) was published by Praxis in 2007.
Praise For…
---
"Victor Serge was, and remains, unique: the only novelist to describe successfully, from the inside, the now long-lost milieu of the socialist movement in Europe, its Soviet product, and its destruction by Stalinism. He has been described by myself and others as a political Ishmael, comparable to the lone survivor of the wrecked vessel Pequod in Melville's Moby-Dick." —Stephen Schwartz, The New Criterion

A witness to revolution and reaction in Europe between the wars, Serge searingly evoked the epochal hopes and shattering setbacks of a generation of leftists. Yet under the bleakest of conditions, Serge's optimism, his humane sympathies and generous spirit, never waned. A radical misfit, no faction, no sect could contain him; he inhabited a no-man's-land all his own. These qualities are precisely what make him such an inspiring, even moving figure." —Matthew Price, Bookforum

"I know of no other writer with whom Serge can be very usefully compared. The essence of the man and his books is to be found in his attitude to the truth. There have of course been many scrupulously honest writers. But for Serge the value of the truth extended far beyond the simple (or complex) telling of it." —John Berger

"A special class of literature that has arisen out of the European political struggle." —George Orwell

"The work of the writer Victor Serge faultlessly captures the labyrinth of bureaucratic incrimination into which the Soviet Union descended." —The Atlantic

"Serge, who has been championed by Susan Sontag and many others, was born in Brussels in 1899 to émigré Russians who'd fled the Czar. He became a political activist, was jailed and arrived in Russia in 1919 to support the Bolshevik Revolution. He rose high in the Comintern before falling foul of Stalin and finding himself in jail and then exile. He was steamrolled by history, and out of this experience he crafted a series of extraordinary memoirs and novels." —Richard Rayner, Los Angeles Times

"Serge can recognize the range of experience and responses that make up the texture of life in even the most nightmarishly repressive system." --Scott McLemee