Twenty Thousand Streets Under the Sky: A London Trilogy (Paperback)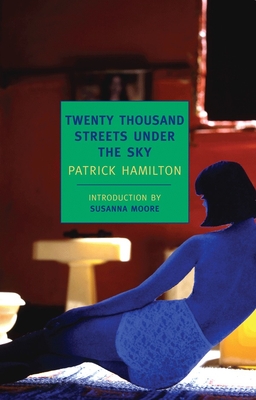 Staff Reviews
---
This is a book that could out-British any other book it met. It Britishes to beat the band. Unrelated: would be a fine reading companion for a nasty breakup. (Stephanie)
— From
Stephanie
Description
---
Patrick Hamilton may be best known now for the plays Rope and Gaslight and for the classic Alfred Hitchcock and George Cukor movies they inspired, but in his heyday he was no less famous for his brooding tales of London life. Featuring a Dickensian cast of pubcrawlers, prostitutes, lowlifes, and just plain losers who are looking for love—or just an ear to bend—Hamilton's novels are a triumph of deft characterization, offbeat humor, unlikely compassion, and raw suspense. In recent years, Hamilton has undergone a remarkable revival, with his champions including Doris Lessing, David Lodge, Nick Hornby, and Sarah Waters.

Twenty Thousand Streets Under the Sky is a tale of obsession and betrayal that centers on a seedy pub in a run-down part of London. Bob the waiter skimps and saves and fantasizes about writing a novel, until he falls for the pretty prostitute Jenny and blows it all. Kindly Ella, Bob's co-worker, adores Bob, but is condemned to enjoy nothing more than the attentions of the insufferable Mr. Eccles; Jenny, out on the street, is out of love, hope, and money. We watch with pity and horror as these three vulnerable and yet compellingly ordinary people meet and play out bitter comedies of longing and frustration.
About the Author
---
Patrick Hamilton (1904—1962) was born into a literary family and became active in the theater at a young age. He was a prolific writer, both of fiction and for the stage, and a notorious alcoholic. Among his most famous novels are Hangover Square and The Slaves of Solitude (NYRB Classics).

Susanna Moore is the author of the novels My Old Sweetheart, The Whiteness of Bones, Sleeping Beauties, In the Cut, One Last Look, and The Big Girls, as well as a book of non-fiction, I Myself Have Seen It. She lives in New York City.
Praise For…
---
"The rediscovery of English writer Hamilton (Hangover Square, The Slaves of Solitude) continues with this tale of obsessive love in the low-rent pubs of 1930s London - so evocatively rendered you almost smell the smoke and spilt ale." --Newsday
"No other English writer has written so acutely about sexual infatuation, embarrassment and self-delusion." –Time Out
"Unsurpassed as a recorder of lonely urban existence in the mid-20th century." –Lynne Truss, The Times [UK]
"Hamilton is a master at reproducing the inflated talk of betrayed lives." –The Independent [UK]
"The wonderful 1935 trilogy, Twenty Thousand Streets Under the Sky, is set in a pub off the Euston Road. Every detail is spot on; Hamilton's remorseless eye weaves an atmosphere as thick as bar smoke." –The Independent [UK]
"Bleak and brilliant…an authentic lost classic." –The Guardian
"A little-known classic of English literature." –Seattle Times
"When I came upon Hamilton's name in this book, I got out Hangover Square and found, just as my Penguin edition blurbed, "one of the great novels of the 20th century." (Suffice it to say that Hamilton writes about street life with an honesty and lyricism, an absence of sentimentality or fetish for squalor, that should make nearly every hard-boiled writer hang his or her head in shame.)" –Charles Taylor, Salon.com
"Patrick Hamilton is being revived again. And it looks serious this time… JB Priestley was an early supporter. Hamilton's book The West Pier was generously described by Graham Greene as "the best novel ever written about Brighton". He was John Betjeman's favourite contemporary novelist. Writers from Julie Burchill to Doris Lessing are warm admirers. Biographer Michael Holroyd has written numerous essays and introductions. Nick Hornby recently described him as 'my new best friend'." —The Independent [UK]
"Until recently, my bedside table has been tilting under the weight of various Victorian novels; now I'm planning a book with a post-war setting and have put myself on a diet of slimmer, mid-20th-century works…Most exciting, however, has been Patrick Hamilton's fiction: I am halfway through The Slaves of Solitude, his nervy, hilarious study of the claustrophobic awfulness of British boarding-house life; now I have his trilogy, Twenty Thousand Streets Under the Sky, to look forward to." –Sunday Times [UK]
"[Hamilton's] scenes of pub life (and much of the action of the trilogy takes place off those 20,000 streets in an array of licensed premises) are perfectly realized. They enable him to bring a near-Dickensian sense of the comic to a gallery of the most appalling pub bores. It is certainly worth the attention of a new generation of readers." –The Birmingham Post [UK]
"This reprinted classic well deserves its shelf space with new novels…The magic lies in Hamilton's ability to get inside the head of his rather tragic and innocent characters, and in his power of description, especially of pubs. The atmosphere of 1920s-30s London hostelries and the joys of having a drink in them makes you long to be there, watching one of the scenes he so vividly describes unfold in the corner." –Coventry Evening Telegraph
Hamilton captures the "authentic atmosphere of what it was like to live in England between the two world wars". –Michael Holroyd
"He is a master." –J. B. Priestley
"Patrick Hamilton was a marvelous novelist who's grossly neglected...I'm continually amazed that there's a kind of roll call of OK names from the 1930s, sort of Auden, Isherwood, etc. But Hamilton is never on them and he's a much better writer than any of them…He wrote more sense about England and what was going on in England in the 1930s than anybody else I can think of, and his novels are true now. You can go into any pub and see it going on." –Doris Lessing, The Times [UK]
"A magnificent portrait of the renting twilight class of 1930s London. Too bleak for its own times, its nihilism suited us just fine." –Daily Telegraph
"A criminally neglected British author." –Daily Telegraph
"My big discovery of the year has been Patrick Hamilton. His trilogy Twenty Thousand Streets Under The Sky, written in the 1920s, is a beauty - one of the finest books I've ever read." –Dan Rhodes, Sunday Glasgow Herald
"I've gone Patrick Hamilton crazy. I was blown away by the superbly excruciating Twenty Thousand Streets Under The Sky , and I'm going to track down some of his out-of-print novels. He writes brilliantly about infatuation and drunkenness - two subjects close to my heart." –Dan Rhodes, The Observer [UK]
"It's rainswept and melancholy–just my kind of stuff." –Phil Davis, The Times [UK]
"Hamilton wrote a world into being that still exists: a London world of smoky pubs and bedsits, homeless individuals and forlorn lovers, people at the pictures, people in Soho, English men and women living in and around the centre of the city's capital in the first decades of the last century, people full of yearning and loneliness. He was a poet of the foggy lamplight and the nicotine-stained ceiling, and we mustn't forget him. We daren't. We are still in need of his intelligence and his moral insight." –Daily Telegraph
"A writer I love is Patrick Hamilton…I am reading his trilogy, which is called Twenty-Thousand Streets Under the Sky. His world is a world of thwarted dreams in the 1920s and '30s. His writing is phenomenally good." –Wesley Stace, The Newark Star-Ledger
"Hamilton was an expert at describing the simple sadnesses of unfulfilled lives" –The Observer
"Hamilton was the son of a tyrannical, drunken barrister and a failed actress. He published his first novel at 19, establishing himself as one of the bright young novelists of the 1920s and 1930s, only to be knocked over by a car at the height of his career and badly disfigured. Despite professional success, his work reflected his life -rootless and depressed, buffeted by failed relationships and awash with alcohol -and he died in 1962 of cirrhosis of the liver." –The Times [UK]
"Funny and moving trilogy of low-life love affairs in 30s SoHo" –The Times (UK)
June 27, 1987
"Writers such as Lynne Truss and Nick Hornby are proclaiming his genius. Hamilton is about to be 'rediscovered.'" –The Daily Telegraph

Hamilton...loves his ominous narratives. He's a sort of urban Hardy: everyone is doomed, right from the first page....It's sad, but Hamilton's laconic narrative voice is always a joy to read, and as a social historian, Hamilton is unbeatable.
— Nick Hornby