Every Rose Has Its Thorn: The Rock 'n' Roll Field Guide to Guys (Paperback)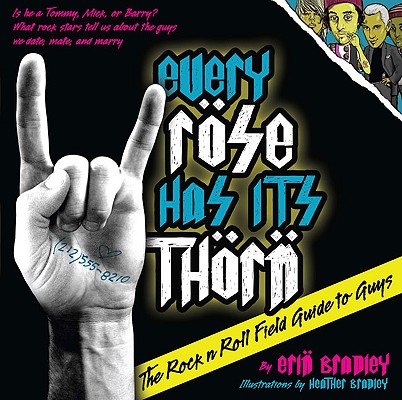 $14.95
Special Order: Please email for availability
Description
---
Is there a reason some girls grew up worshipping The Cure while others were hot for Motley Crue? Could your love of the Beastie Boys have anything to do with your current beau's commitment issues? Have you ever wished for the kind of timeless romantic wisdom that can only come from years spent listening to David Bowie in your bedroom?
Wonder no more EVERY ROSE HAS ITS THORN: A ROCK N ROLL FIELD GUIDE TO GUYS is here to help (and/or moderately entertain) you. Packed with quizzes, true life tales, lots of words, and illustrations in glorious black and white, this book will help you better identify and understand the rockstars and wanna- be's you'll meet on romance's bumpy tour.
What kind of guy . . .Owns a gorilla suit, but not an interview suit? Uses a broomstick as a curtain rod and a T-shirt as a pillowcase yet spends entire paychecks optimizing the gaming capabilities of his computer? Wants sex but not as much as he wants to watch Adult Swim?
See Chapter 4.
What kind of guy . . .Considers a car, a job, and a place to live "nice to have" but mostly optional? Has a life story that reads like a reverse Horatio Alger novel? Is self-proclaimed "lazy" about: brushing his teeth, returning monies borrowed, dressing open wounds?
See Chapter 1.
What kind of guy . . .Can school you on complicated investment strategies but keeps sending you viruses on Facebook? Arrives at your 40's Party in period clothes with a martini shaker, instead of in an Adidas sweatsuit with a case of malt liquor? Has lots of baggage but really nice luggage?
See Chapter 9.
About the Author
---
ERIN BRADLEY is a writer and journalist living and working in New York City. For the past 5 years, she s been the author of "Miss Information," a sex and dating advice column for Nerve.com. A native of East Detroit, Erin attended Michigan State University, where she earned a degree in Human Resources (don t worry, she doesn t know what that is, either). Early success as a dating blogger (code name: girlgonemad) led to a weekly advice column, as well as alienation from past boyfriends and pleas from her parents to tone it down.A lifelong fan of rock n' roll, Erin brought a Beatles album to Show-N-Tell in the first grade and was a card-carrying member of the Aerosmith fan club at the tender age of 10 years old. After a string of rock star crushes, she went on to date a series of pale imitations from high school on through college, with notable achievements including a make out session with a Wilco roadie and a friend-with-benefits relationship with a former tour manager for Franz Ferdinand.Throughout it all, Erin has become versed in both rock n roll and the men involved in the lifestyle. EVERY ROSE HAS ITS THORN is the culmination of her experiences as both a dater and an advice-giver. With illustrations and input from noted artist and creative director Heather Bradley, it s an inside look at what goes on after the stage lights go down and the real personalities come out."