The Underminer: The Best Friend Who Casually Destroys Your Life (Hardcover)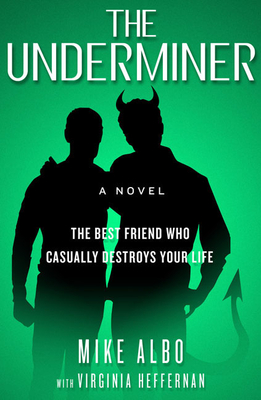 $19.95
Special Order: Please email for availability
Description
---
You can't escape him. He swerves in and out of your life as if effortlessly walking through a crowded restaurant. He's a passive-aggressive master. He's as undetectable as a whisper and as effective as a tiny toxic pill. You probably went to school with him, and he knows everything you've done-every foolish secret ambition you've nurtured, everyone you wish you'd never slept with, every lame, fleeting trend you've embraced. The Underminer throws you into a spiral of self-doubt each time you see him. But...the Underminer is your friend. With this book, Mike Albo and Virginia Heffernan channel this hilarious and mysterious evil that we all have encountered. Through 15 years of booming successes and miserable failures, they pursue this powerful "friend" as he slowly and relentlessly dismantles the life of a nameless victim. Here is the subtle slayer of your hopes, the tactful destroyer of your dreams: the Underminer.
About the Author
---
Mike Albo is a writer and performer who has performed his comedic monologues all over the country and abroad, in cities including Los Angeles, San Francisco, New York, Toronto, and London. His first novel, Hornito, was published in 2000.Virginia Heffernan, who co-writes with Albo for his performances, is a television critic for the New York Times.
Praise For…
---
"…a hyperactive monologist with a gift for capturing the most mundane sound bites in modern conversation and juxtaposing them..."



"…a poet's ear, a novelist's eye and a speed freak's tongue, Albo is downtown's fast-talking monologist…a wizard with words and refreshingly sweet..."



"Rapid-fire rants, skits and anecdotes, [Albo is] a sharp satirist."



"Pitch-perfect...The Underminer is a compressed comic classic of New York, a kind of anti-E.B. White fable...Nasty. But fun. And very funny."



"I started laughing with the first sentence, didn't stop until the last sentence and then, randomly, for the next week, the slightest reminder of one of the zillion funny lines in The Underminer would set me off again."

-Malcolm Gladwell


"Hilarious and sick, The Underminer is one of those books that makes you insane with rage and laughter. I loved it more than I hate people like this."

-Margaret Cho


"Whether your Underminer is an actual nemesis or merely the voice of a particularly ornery self-loathing, Albo & Heffernan have done humankind the favor of nailing the bastard, with wit and style in excelsis-cringier than a ninth grade PE humiliation, more scouring, compassionate and incisively lamenting of the human condition than a four-day acid trip hosted by Oprah, and hilariously upbraiding of pretentious trends in a way that will make you involuntarily blow your soy-chai frappaccino through your nose. I can think of no more priceless stocking-stuffer for that special insensitive someone. The Underminer beats a bucket of Paxil, six months of therapy and an exorcism-it bestows the healing gift of revenge."

-Cintra Wilson


"The ultimate satirist of the downtown New York social landscape...The Underminer displays an astonishing capacity for condescension."



"Fascinating… enormously funny… perfectly pitched…The Underminer is a small voice whispering in your ear, 'Read me.'"



"Albo's jokes punch hard."



"Everyone has one: the 'friend' who somehow manages to turn every compliment into an incredibly subtle insult…Addictive."



"Pitch-perfect...The Underminer is a compressed comic classic of New York…Nasty. But fun. And very funny."



"It's classified as fiction, but anyone who's lived it will know the novel is anything but imagined."



"Diabolical…it makes you chuckle, but it also makes you squirm."



"A treasure…You'll laugh. You'll cry. You'll wince with recognition…Wickedly funny…richly detailed and pitch perfect."



"A novel masquerading as a self-help book--or is it a self-help book masquerading as a novel?"



"Scathingly funny...It's an era made for the Underminer."



"The narrator of Mike Albo's new novel is a psychological predator of the highest order…[Drawn with] sharpness and hilarity."