Into the Go-Slow (Paperback)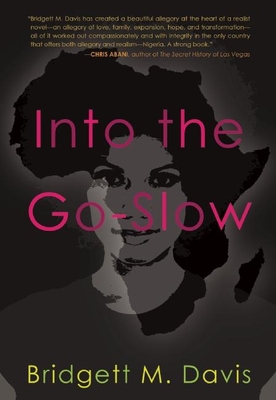 This item is currently unavailable and can not be ordered.
Description
---
It's 1986 and twenty-one-year-old Angie continues to mourn the death of her brilliant and radical sister Ella. On impulse, she travels from Detroit to the place where Ella tragically died four years before--Nigeria. She retraces her sister's steps, all the while navigating the chaotic landscape of a major African country on the brink of democracy careening toward a coup d' tat.
At the center of this quest is a love affair that upends everything Angie thought she knew about herself. Against a backdrop of Nigeria's infamous go-slow--traffic as wild and surprising as a Fela lyric--Angie begins to unravel the mysteries of the past, and opens herself up to love and life after Ella.
About the Author
---
Bridgett Davis's debut novel Shifting Through Neutral was published in 2004 by Amistad/ HarperCollins. The novel was a Borders Books "Original Voices" Selection and a finalist for the 2005 Zora Neale Hurston/Richard Wright LEGACY Award. Davis was selected as the New Author of the Year by Go on Girl! Book Club--the largest national reading group for African American women. Davis's essays, reviews, and articles have appeared in the Washington Post, the Wall Street Journal, the Chicago Tribune, TheRoot.com and a host of other publications. She is a professor at Baruch College, City University of New York, where she is the director of the Sidney Harman Writer-in-Residence Program, and she is the curator for the popular monthly Brooklyn reading series, Sundays @.