Ongoingness: The End of a Diary (Hardcover)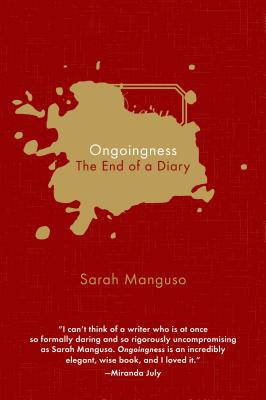 Description
---
"[Manguso] has written the memoir we didn't realize we needed." —The New Yorker
In Ongoingness, Sarah Manguso continues to define the contours of the contemporary essay. In it, she confronts a meticulous diary that she has kept for twenty-five years. "I wanted to end each day with a record of everything that had ever happened," she explains. But this simple statement belies a terror that she might forget something, that she might miss something important. Maintaining that diary, now eight hundred thousand words, had become, until recently, a kind of spiritual practice.
Then Manguso became pregnant and had a child, and these two Copernican events generated an amnesia that put her into a different relationship with the need to document herself amid ongoing time.
Ongoingness is a spare, meditative work that stands in stark contrast to the volubility of the diary—it is a haunting account of mortality and impermanence, of how we struggle to find clarity in the chaos of time that rushes around and over and through us.
"Bold, elegant, and honest . . . Ongoingness reads variously as an addict's testimony, a confession, a celebration, an elegy." —The Paris Review
"Manguso captures the central challenge of memory, of attentiveness to life . . . A spectacularly and unsummarizably rewarding read." —Maria Popova, Brain Pickings
About the Author
---
Sarah Manguso is the author of a memoir, The Two Kinds of Decay; books of poetry, Siste Viator and The Captain Lands in Paradise; and a short-story collection, Hard to Admit and Harder to Escape.
Praise For…
---
"[Manguso is] a Proustian minimalist on the order of Lydia Davis, both in the way she distills complex thoughts on time and memory into pure essence and in how she examines writing as a means of control. . . . While Manguso's thoughts are inward, they work outward--from her life to life itself. Read as either a meditative essay or a revealing confessional poem, this is a thoughtful, reflective look at one talented writer's creative evolution." —Kirkus Reviews
"This small-sized book has immense power. Marvel at the clarity and fire." —Zadie Smith
"After I had my son I looked everywhere for a book that might serve as some kind of mirror. I bought so many silly books. Now I see what the problem was: I wanted a book about time--about mortality. I can't think of a writer who is at once so formally daring and so rigorously uncompromising as Sarah Manguso. Ongoingness is an incredibly elegant, wise book, and I loved it." —Miranda July
"The memoir form is shaken up and reinvented in this brilliant meditation on time and record-keeping. Ongoingness is a short book but there's nothing small about it. Sarah Manguso covers vast territory with immense subtlety and enviable wit." —Jenny Offill
"It seemed scarcely possible that, after The Two Kinds of Decay and The Guardians, Sarah Manguso's work could get more urgent, but somehow it has. Ongoingness confronts the deepest processes and myths of life and death: birth, marriage, illness, mourning, motherhood, art. Underwriting this book, as is true of all of Manguso's books, is writing itself. Or, rather, the writing is about itself in the best, most vital sense. Our author/narrator/speaker/heroine is never not asking the most fundamental question, namely, Why live? The seriousness of the inquiry gives this book extraordinary purpose, momentum, and value. I am in awe." —David Shields
"Sarah Manguso's personal meditation on time and memory begins at the center of a dilemma: how to let time go by without losing the life it contains. Ongoingness is a diary turned inside out, an answer to the writer's question, 'what do I do with all the words of my life.' It's a quiet argument for letting go and going on." —Lewis Hyde