Tesla: A Portrait with Masks: A Novel (Paperback)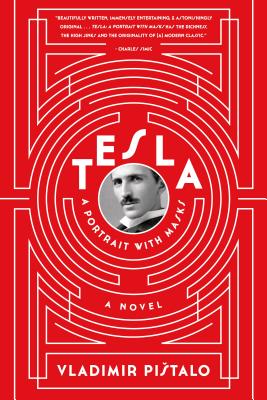 Description
---
An electric novel of the extraordinary life of one of the twentieth century's most prodigious and colorful inventors


Nikola Tesla was a man forever misunderstood. From his boyhood in what is present-day Croatia, where his father, a Serbian Orthodox priest, dismissed his talents, to his tumultuous years in New York City, where his heated rivalry with Thomas Edison yielded triumphs and failures, Tesla was both demonized and lionized. Tesla captures the whirlwind years of the dawn of the electrical age, when his flair for showmanship kept him in the public eye. For every successful invention—the alternating current electrical system and wireless communication among them—there were hundreds of others. But what of the man behind the image? Vladimir Pistalo reveals the inner life of a man haunted by the loss of his older brother, a man who struggled with flashes of madness and brilliance whose mistrust of institutional support led him to financial ruin. Tesla: A Portrait with Masks is an impassioned account of a visionary whose influence is still felt today.
About the Author
---
Vladimir Pistalo has published eleven books of fiction. Tesla, his first book to be translated into English, won the 2008 NIN Literary Award, the most prestigious award in Serbia, and has appeared in ten languages. He teaches at Becker College in Massachusetts.
Praise For…
---
"Beautifully written, immensely entertaining, and astonishingly original in the way it tells the story of a man who they used to say 'invented the twentieth century,' but whose life is still an enigma, Tesla: A Portrait with Masks has the richness, the high jinks and the originality of such modern classics as Günter Grass's The Tin Drum and Gabriel García Márquez's One Hundred Years of Solitude." —Charles Simic
"Tesla is a profoundly absorbing meditation on the early, defining years of the modern age. Vladimir Pistalo has drawn a lightning-etched portrait of a genius as powerful, as transformative and as mysterious as electricity itself." —Ken Kalfus, author of A Disorder Peculiar to the Country
"Much has been written about Nikolai Tesla, but Vladimir Pistalo's extraordinary and profoundly original novel manages to tell us something entirely new--not only about the brilliant 'mad-genius' inventor but also about the ways in which literature and the imagination can transform biography into great art." —Francine Prose, author of Lovers at the Chameleon Club, Paris 1932
"Recommended for readers who enjoy a life story told with pizzazz." —Library Journal