Letters to a Stranger: Poems (Re/View) (Paperback)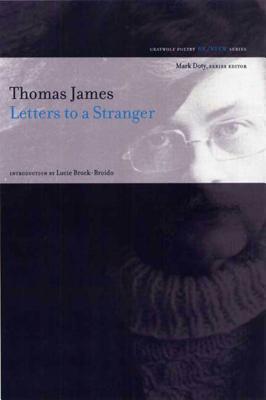 Email or call for price and availability
Description
---
The searing collection, a cult favorite for decades, by the late Thomas James

I will last forever. I am not impatient—
My skin will wait to greet its old complexions.
I'll lie here till the world swims back again.
—from "Mummy of a Lady Named Jemutesonekh"
Thomas James's Letters to a Stranger—originally published in 1973, shortly before James's suicide—has become one of the underground classics of contemporary poetry. In this new edition, with an introduction by Lucie Brock-Broido and four of James's poems never before published in book form, this fraught and moving masterpiece is at last available.
Letters to a Stranger is a new book in the Graywolf Poetry Re/View Series, edited by Mark Doty, dedicated to bringing essential books of contemporary American poetry back into print.
About the Author
---
Thomas James (1946–74) was from Joliet, Illinois. Letters to a Stranger, which won the Theodore Roethke Prize from Poetry Northwest in 1969, was his only book of poetry.
Praise For…
---
"Letters to a Stranger is a book of dark intensities and deeply felt connections, both haunted and haunting, at once brooding, sensual and lucid . . . The voice in these poems--painfully lonely and filled with longing, estranged and religious--has stayed with me for more than twenty years. It deserves to be remembered." —Edward Hirsch, The Washington Post