A Kiss Goodnight (Hardcover)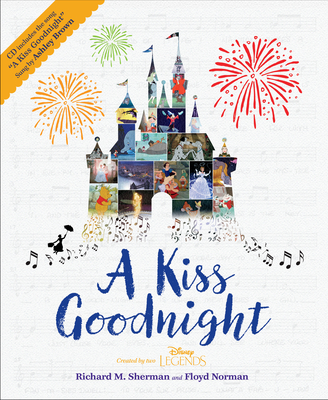 This item is currently unavailable and can not be ordered.
Description
---
This charming picture book and CD is a valentine to Walt Disney from the legendary songwriter Richard Sherman.
Opening with a touching story about what inspired Richard to write the song, "A Kiss Goodnight" tells the story of how a young Walt Disney was enchanted by fireworks and how he kept his promise to send all his guests home with a special kiss goodnight.
Beautifully illustrated by Disney legend Floyd Norman, A Kiss Goodnight is the must-have picture book for families to enjoy together and for Disney fans to treasure. The book features a CD with the song sung by Broadway star Ashley Brown.
Searching for that perfect gift for the Disney kid in your life? Explore more behind-the-scenes stories:
Pencils, Pens & Brushes: A Great Girls' Guide to Disney Animation
Mary Blair's Unique Flair: The Girl Who Became One of the Disney Legends
Walt Disney: Drawn from Imagination biography

About the Author
---
Richard Sherman is a songwriter and music director best known for his work with his late brother Robert. Some of the Sherman Brothers' best-known works include the songs from Mary Poppins, Bedknobs and Broomsticks, The Jungle Book, Winnie the Pooh, Chitty Chitty Bang Bang, The Slipper and the Rose, and "it's a small world."
A self-proclaimed cartoonist, Floyd Norman has worked in motion pictures, television, comic books and strips. He's been writing and drawing cartoons longer than most people have been alive.
Floyd wrote the syndicated Mickey Mouse comic strip for King Features Syndicate and worked as an animator and story artist on at least a dozen feature animated films for both Walt Disney Studios and Pixar Animation Studios. Though retired, Floyd continues to work as a consultant for the Walt Disney Company and is currently producing animation for the studio's Special Projects Unit. He has also helped develop video games and toys for Disney Consumer Products.
Praise For…
---
"The story, which reads like a bedtime story, was written by Richard M. Sherman and Brittany Rubiano. It follows Walt as a hard-working, but poor kid growing up in the Midwest, with the annual Fourth of July fireworks display. . . .The book is beautifully illustrated by Disney Legend and Disney animator, Floyd Norman. His wife, Adrienne Brown Norman, was the colorist and contributed an illustration. . . . Throughout the book are lines from the song, drawn by Music Copyist Leslie Smith Buttars. Sherman wanted this in the book because 'it gave a warmth and humanity to the music.' The hand-drawn staffs of music work beautifully and truly give the book and old-fashioned warmth and familiar feel. . . . A Kiss Goodnight is one of those rare books that successfully combines a story with beautiful drawings and music into one that children and adults will equally enjoy-often."—Huffington Post

"Richard Sherman is a bona fide Disney Legend. For Disneyland's sixtieth anniversary, he composed a song based on something he remembered Walt Disney saying about the evening fireworks display at his park: he wanted to give his visitors 'a kiss goodnight.' Another Disney Legend, animator and story man Floyd Norman, was inspired to illustrate Walt's journey, from humble Midwestern beginnings to world-famous storyteller and entertainer, culminating in the creation of Disneyland. Sherman and Norman's combined efforts make this slender volume a charming addition to any Disney bookshelf. Best of all, the hardcover includes a sleeve with a CD of Ashley Brown (the gifted performer who played Mary Poppins on Broadway) singing Sherman's lovely song."—Leonard Maltin, film critic and historian

"An entrancing gift from Richard M. Sherman (one half of the legendary Sherman Brothers song-writing partnership) and veteran Disney animator, Floyd Norman: a delightful song and story about Walt Disney's determination to end every day at his Disneyland park with an unforgettable firework display that would serve as a loving and rewarding 'kiss goodnight'. . . . The book will be treasured by Disney families and the song will be enjoyed again and again by all with the enclosed CD recording by Broadway's 'Mary Poppins', Ashley Brown."—Brian Sibley, writer, broadcaster, and Disney scholar

"A unique picture book by two Disney Legends: songwriter Richard Sherman and artist Floyd Norman. Sherman with writer Brittany Rubiano tell the story of a young Walt Disney in Kansas and how fireworks inspired him and his imagination. Floyd and his wife Adrienne illustrate the tale with beauty and grace."—Cartoon Research