Songwriting: Strategies for Musical Self-Expression and Creativity (Paperback)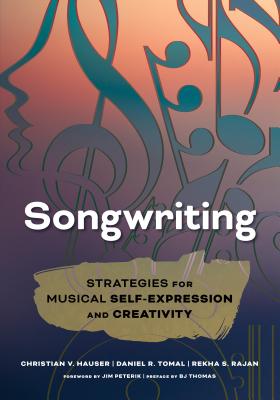 This item is currently unavailable and can not be ordered.
Description
---
A musical composer, guitar rocker, and lyric opera singer team up to write this sensational book on songwriting. This book includes everything you want to know about the core competencies of songwriting, elements of music, and lyrics. Features include writing song lyrics, crafting musical compositions, musical styles, getting a contract, sustaining a career, publishers and agents, recording, and even how to survive in the music industry. No matter what music genre you desire---blues, country, hip hop, gospel, punk, classical, alternative, jingles, or rock---this is the book for you. You will find this fascinating book filled with tips, quotes from famous songwriters and musicians, and numerous stories on songwriting that will keep you fully engaged.
About the Author
---
Christian V. Hauser is Associate Professor of Music at Concordia University Chicago. When living in Nashville he received numerous album credits as a songwriter, producer, and recording engineer. He is certified in Kodaly and Orff and has written many orchestral and ballet compositions which have been performed by the Houston, Colorado Music Festival, Sioux City and Nashville Symphony Orchestras. Daniel R. Tomal is Distinguished Professor of Leadership at Concordia University Chicago and award-winning author. He has published 20 books and numerous articles. He is a former high school guitar instructor, written many original songs, has produced and audio-engineered recordings, played in several rock and roll bands, and made numerous national television appearances. Rekha S. Rajan is a Visiting Associate Professor at Concordia University Chicago. She is a former professional musical theater and operatic performer, has sung in over 30 languages and plays the piano and mridangam. She is the author of several books on musical theater and arts education and is the recipient of numerous grants, including a two-year research grant from the National Endowment for the Arts.