Mama Tried: Dispatches from the Seamy Underbelly of Modern Parenting (Hardcover)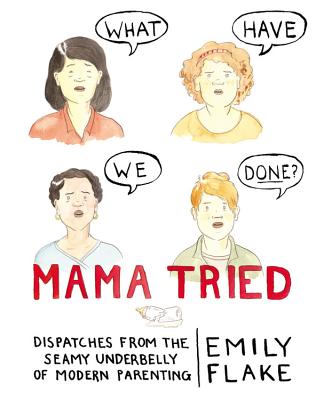 Description
---
New Yorker cartoonist Emily Flake relates the hilarious horrors of pregnancy, birth, and early parenting in this funny, poignant, and beautifully illustrated book.

For most people, having a child doesn't go exactly as planned. Not many are willing to admit that not only did they dislike the early days of parenting, they sometimes hated it. Mama Tried is a relatable collection of cartoons and essays pertaining to the good, bad, and (very) ugly parenting experiences we all face. Subjects range from "are you ready for children?" to "baby gear class-warfare." With incredible honesty, Flake tackles everything from morning sickness to sleep training, shedding much needed light on the gnarly realities of breastfeeding, child proofing, mommy groups, and every unrealistic expectation in between. Mama Tried will be an indispensable companion for sleepless parents and a fond reminder for those already out of the woods.
About the Author
---
Emily Flake regularly cartoons for the New Yorker, and writes and draws a weekly strip called Lulu Eightball (Atomic Books), which has been assembled into two collections. In 2007, she wrote and illustrated These Things Ain't Gonna Smoke Themselves (Bloomsbury USA). Her illustrations and cartoons appear in publications all over the world, including the New York Times, Newsweek, the Globe and Mail, The Onion, The New Statesman, and Forbes.
Praise For…
---
"Emily Flake's book about pregnancy, birth and babies is completely hilarious. I've always loved her cartoons, but this book is even better. She writes and draws about a subject she knows quite well-the whole baby thing. It's all here: the frustrations as well as the deep love, and the bewilderment of dealing with things you never had to deal with before. A great book for anyone who has ever had a kid, or who's about to have one. She's the real thing."
-Roz Chast

"What a wonderful book. Emily Flake is consistently inventive and hilarious."
-Andy Borowitz