Reunion: A Novel (Hardcover)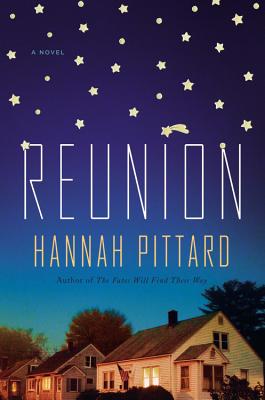 Description
---
The author of the highly acclaimed The Fates Will Find Their Way returns with a novel about a far-flung family reunited for one weekend by their father's death.

Five minutes before her flight is set to take off, Kate Pulaski, failed screenwriter and newly failed wife with scarcely a hundred dollars to her name, learns that her estranged father has killed himself. More shocked than saddened by the news, she gives in to her siblings' request that she join them, along with her many half-siblings and most of her father's five former wives, in Atlanta, their birthplace, for a final farewell.

Written with huge heart and bracing wit, Reunion takes place over the following four days, as family secrets are revealed, personal foibles are exposed, and Kate -- an inveterate liar looking for a way to come clean-slowly begins to acknowledge the overwhelming similarities between herself and the man she never thought she'd claim as an influence, much less a father. Hannah Pittard's "engaging and vigorous" prose masterfully illuminates the problems that can divide modern families--and the ties that prove impossible to break. (Chicago Tribune)
About the Author
---
Hannah Pittard is the author of the critically acclaimed novels Reunion and The Fates Will Find Their Way. Her stories have appeared in the American Scholar and McSweeney's, among other publications. A consulting editor for Narrative magazine, she is a recipient of the 2006 Amanda Davis Highwire Fiction Award and a MacDowell Colony Fellowship. She is also the author of Listen to Me.
Praise For…
---
"An indelible portrait of a family, messy and raw. Prickly Kate isn't a particularly sympathetic character-but she feels like a real one."

—
Entertainment Weekly
"Fast-paced . . . [Pittard] makes writing short, lively scenes look easy."

—
Atlanta Journal-Constitution
"Richly rewarding . . . A family drama you won't want to put down."

—
People
"Hannah Pittard is the writer you won't be able to stop talking about...Her writing will make you laugh and cry in public...Her books are the sort that leave you reading the blurbs, scanning the small print, and prolonging the reading experience. . . She's the kind of writer who gets in your head and makes you evangelize to all of your friends-wide eyes, quick gasp: 'Do you know about Hannah Pittard?' If she's not on your radar yet, she should be. . . . The sibling bond-that complicated and often inexplicable love [is] expertly encapsulated in
Reunion
."—
Buzzfeed
"Pittard is working with a fertile premise here--a family's discovery of one another's secrets following the death of its patriarch--that bears some unexpected and affecting fruit. The framework feels reminiscent of Jonathan Tropper's
This Is Where I Leave You
, but the messy blending of Pittard's Pulaski clan gives a familiar construction some very particular complications."—
Shelf Awareness (starred review)
"Realistic and raw . . . [A] satisfying story. The most compelling aspect of Reunion is its unreliable narrator, Kate . . . Reunion is not just about family dysfunction-it is a coming-of-age novel in disguise."

—
Harvard Crimson
"Truly unique and insightful . . . Reunion is a novel of death and life and family. It's about the stories we tell ourselves in order to survive, and what happens when those narratives break down."

—
Bookpage
"Wry, emotionally insightful. . . Reunion succeeds because Kate is so sharp, and perceptive about everyone-except, of course, herself. . . . Kate's voice resonates and elevates the book beyond a family drama."

—
Elizabeth Taylor, Chicago Tribune (Editor's Choice)
"Kate's narrative voice-raw, comic...is what makes this novel shine."

—
Bustle (An "October Best Book" selection)
"Emotionally astute. . . When this family of sorts gathers in Atlanta for the funeral, there is tension, pain, comedy, and finally, some healing and resolution. Kate is a winning narrator, whose insights into herself and her family keep the pages turning."
—
Publishers Weekly
"[
Reunion
] takes a warm and witty look at an unusual dysfunctional family and extols the lasting bonds between siblings. Truly engaging."—
Booklist
"A nuanced and intriguing study of family and love, money and debt, failure and success, starring one of the most likeable flawed narrators to come along in some time."
—
Emily St. John Mandel, The Millions
"That this tale of an epic downward spiral . . . end[s] on a hopeful note is a testament to the humor and empathy of this very readable family drama."
—
Elle Canada
"
Reunion
is uproarious, tender, and riveting, a book about the possibility of family and the value of hope. By the time I finished it I felt like a part of the Pulaski family; I didn't want it to end. Beautifully and hilariously told, it made me fall in love with Hannah Pittard's writing."—
Anton DiSclafani, author of The Yonahlossee Riding Camp for Girls
"With REUNION, Hannah Pittard proves herself to be an alchemist of the highest order. In this unique story about the weirdness of family, she mixes pain and humor together to make something magical. The novel's main character, Kate, is complex and difficult and untrustworthy and, most importantly, utterly winning, one of the most convincing characters I've met in a long time. REUNION slayed me."
—
Kevin Wilson, author of The Family Fang
"REUNION is sharp, funny, and moving, and on every page Hannah Pittard brilliantly captures the sweet enduring chaos of sibling love."
—
Jim Gavin, author of Middle MenPraise for The Fates Will Find Their Way
"A stunning novel about making up stories as we go along...[a] mesmerizing debut...with every carefully chosen word-and in this short, intense novel, each one counts-Pittard brilliantly draws us into the maturing consciousness of a group of neighborhood boys."—
O, the Oprah Magazine
"A dreamlike cross between
The Virgin Suicides
and
The Lovely Bones
."—
Time magazine
"Engaging and vigorously told...I heard all sorts of echoes from other books, from Alice Sebold's
The Lovely Bones
and some of Joyce Carol Oates' stories and novels...Pittard's excellent first novel satisfies this demand in spades."—
Chicago Tribune
"A wistful novel about how little we know of one another, but how eager we are to tape together a collage of rumors, assumptions and fantasies to answer questions we're too young, too cowardly or too polite to ask.... Chilling and touching...harrowingly wise about the melancholy process of growing up."
—
Washington Post
"An emotionally taut and elegantly written novel."
—
Los Angeles Times